Student Organizations
McCourt Student Association
The McCourt Student Association (MSA) serves as the student government at the McCourt School of Public Policy. MSA works to facilitate communication and collaboration among students, administrators, and faculty as well as to enhance the academic, social, and professional experiences of McCourt students.
Throughout the year, MSA oversees all student organizations and promotes ingenuity and engagement by funding student-driven initiatives that extend graduate learning beyond the classroom. MSA-sponsored programming ranges from skills workshops, volunteering opportunities both on and off campus, networking opportunities with alumni, and the annual State of McCourt town hall. MSA also builds community at McCourt by hosting social and diversity events including an international potluck and cultural festival, trivia nights, election watch parties, and the annual end-of-year student gala and graduation dinner. To ensure that student feedback is incorporated into every aspect of academic and student life, MSA regularly collects feedback from McCourt students through surveys and open forums and meets with McCourt administrators to guarantee the best possible experience for all students.
Georgetown Public Policy Review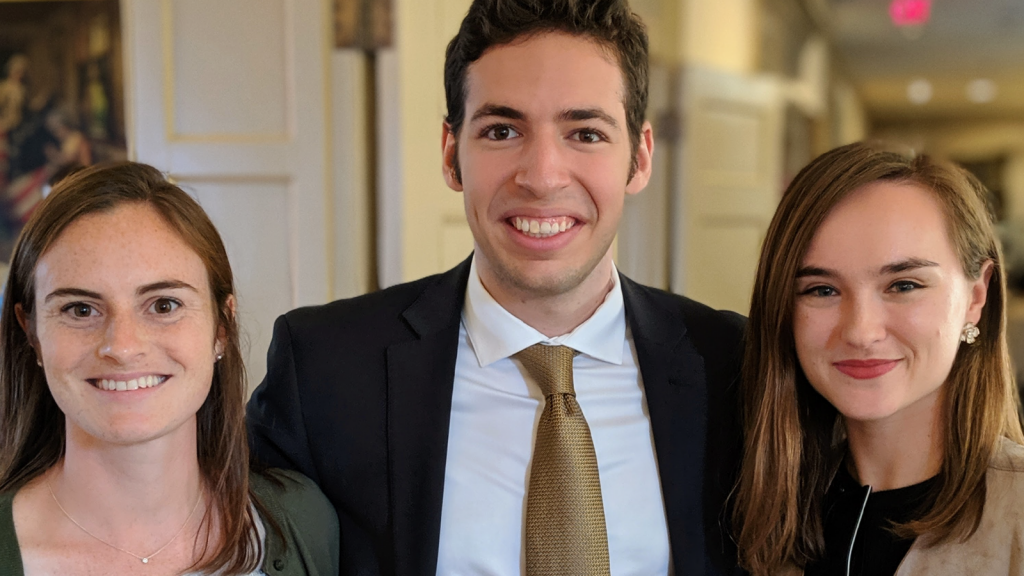 The Georgetown Public Policy Review (GPPReview) is a nonpartisan, student-run media organization. GPPReview's mission is to provide an outlet for innovative new thinkers and established policymakers to offer perspectives on the politics and policies that shape our nation and our world. Approximately 50 dedicated student members work to produce and promote a print publication, The Georgetown Public Policy Review as well as an online blog, GPPReview Online, to achieve this mission.
Print Publications: The Georgetown Public Policy Review is a peer reviewed, academic journal. The Review focuses each issue around a theme addressed with relevant articles and high-profile interviews that contribute to the thoughtful discourse of public policy.
Online Publications: GPPReview Online is a blog offering substantive, timely policy analysis and diverse perspectives on current issues. GPPReview Online sheds new light on important subjects that often miss the attention of the media, thus serving as a valuable resource for students, faculty, practitioners and journalists.
Policy Forums: GPPReview hosts policy forums designed to bring policymakers and students together in conversation. The forums' purpose is to provide a venue for policymakers to showcase research and share opinions and for students to be exposed to the wealth of policy expertise housed in Washington, D.C.
Social Events: Each year, GPPReview hosts several social events to raise money for the organization's operational expenses
Latin America and the Caribbean Policy Association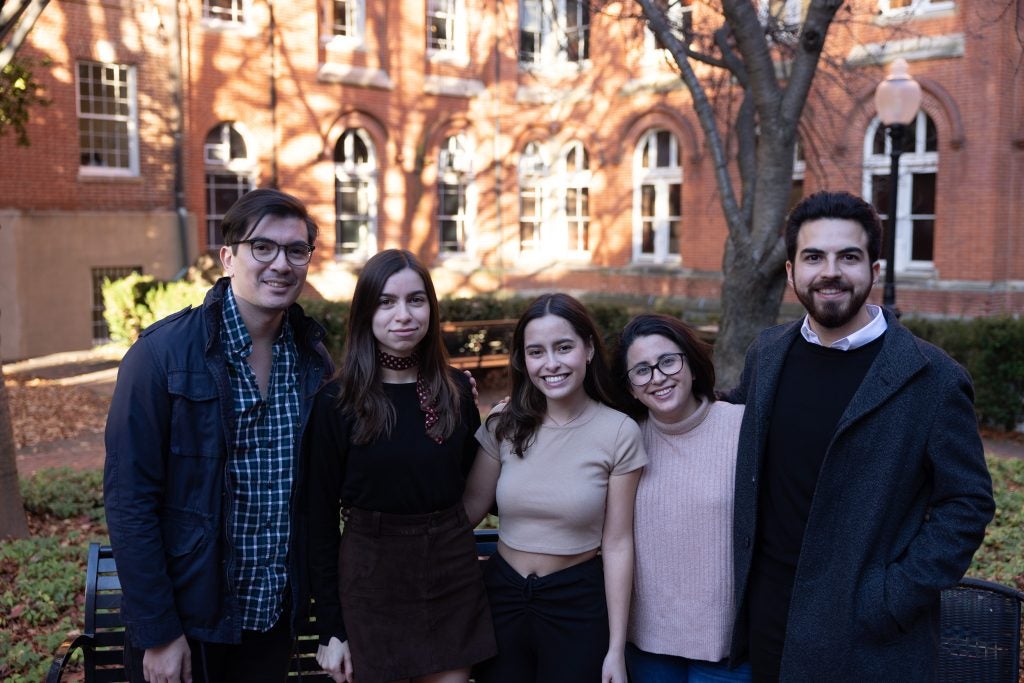 The Latin America and the Caribbean Policy Association (LAPA) was developed in the Spring of 2015. LAPA's mission is to promote the discussion, debate and analysis of policies and political issues relevant for the Latin American region. The Latin America and the Caribbean Policy Association seeks to disseminate knowledge and awareness about Latin American issues and policies among the McCourt School community, in addition to advancing the interests of Latin American students in the McCourt School and in the larger Georgetown community.
Women in Public Policy Initiative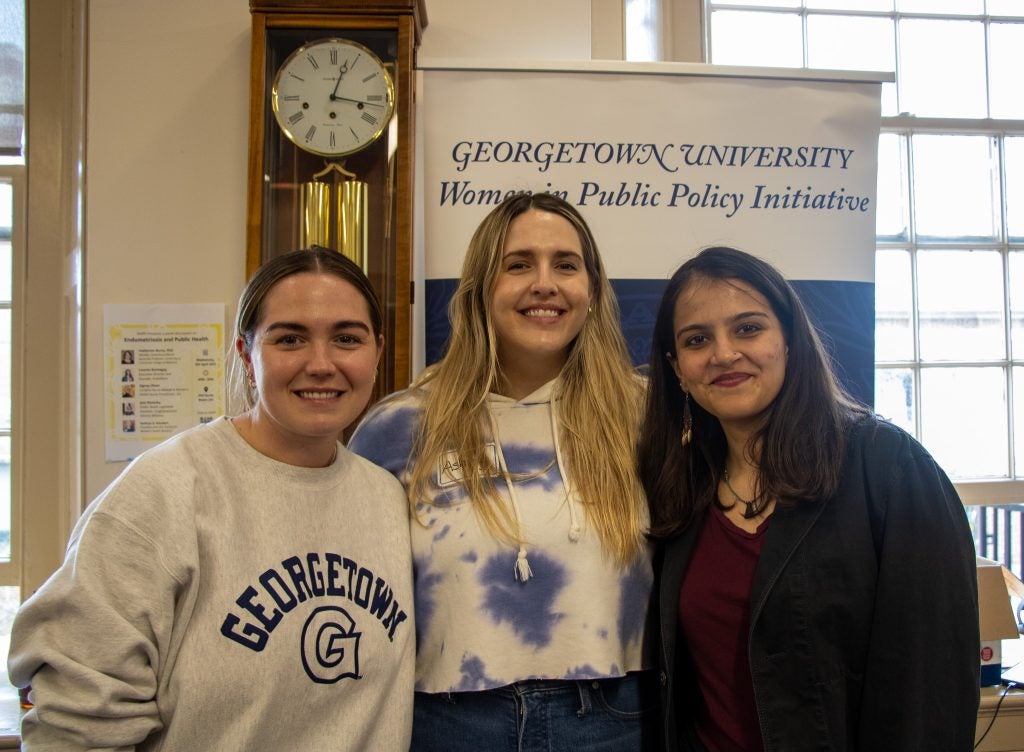 The Women in Public Policy Initiative (WiPPI) is dedicated to developing exceptional female leaders in public policy and increasing awareness of issues that disproportionately affect women and girls through strategic partnerships, service, and advocacy. As an organization, we strive to increase the visibility of women in the policy arena both inside and outside of the immediate Georgetown University community. We seek to provide an inclusive forum for McCourt students interested in issues pertaining to women in politics and public policy, to support the professional development and skills of female students, and to connect current students with alumni and professionals in the field. During the academic year, we host a number of events including speaker series, networking events, and policy discussions. Membership is open to all interested McCourt School students regardless of gender, political affiliation, race, or sexual orientation.
McCourt Policy in Practice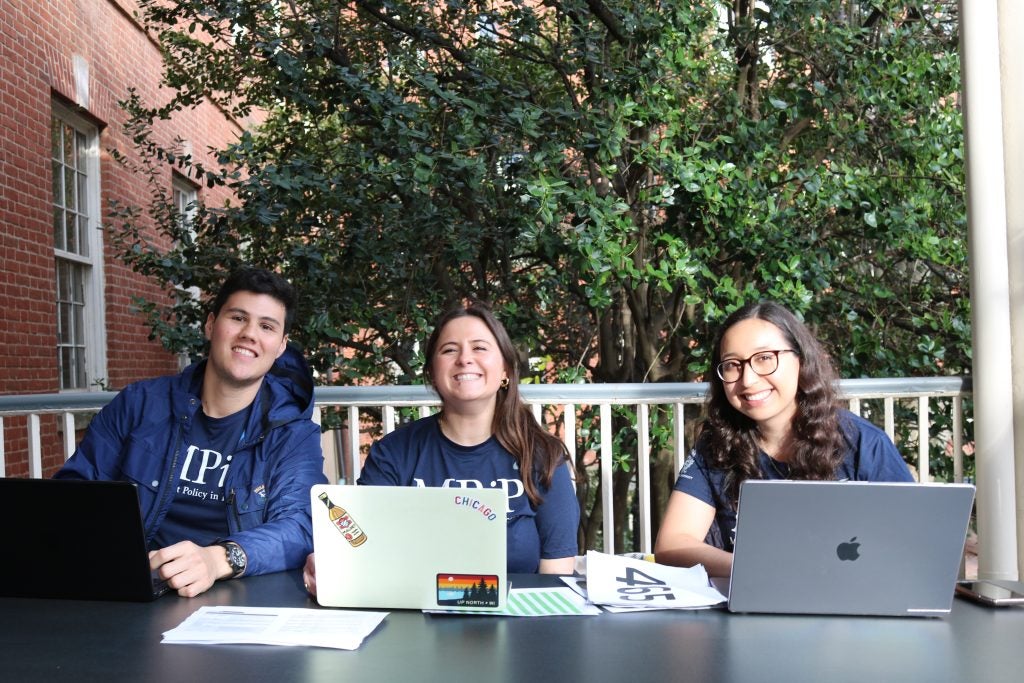 The McCourt School of Public Policy at Georgetown University values service, student action, and social responsibility. McCourt Policy in Practice (MPiP) is a student-led organization at the McCourt School that allows members to engage in an ongoing policy-learning experience. MPiP provides McCourt students with the opportunity to partner with local communities and nonprofit organizations in Latin America to use rigorous policy tools in designing, implementing, and evaluating sustainable, evidence-based development projects that address identified needs.
The LGBTQ+ Policy Initiative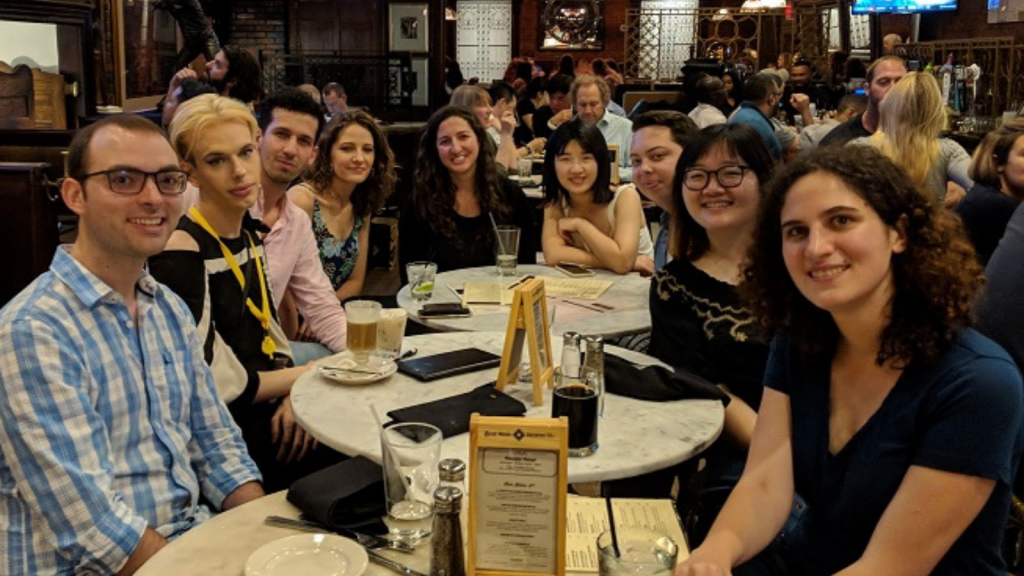 The LGBTQ+ Policy Initiative at the McCourt School of Public Policy ​exists to provide research-driven advocacy in the Georgetown community, on the Hill, and at organizations around the world. LPI's mission is to ​advocate for LGBTQ+ individuals through analytically rigorous mechanics​.
McCourt Education Policy Initiative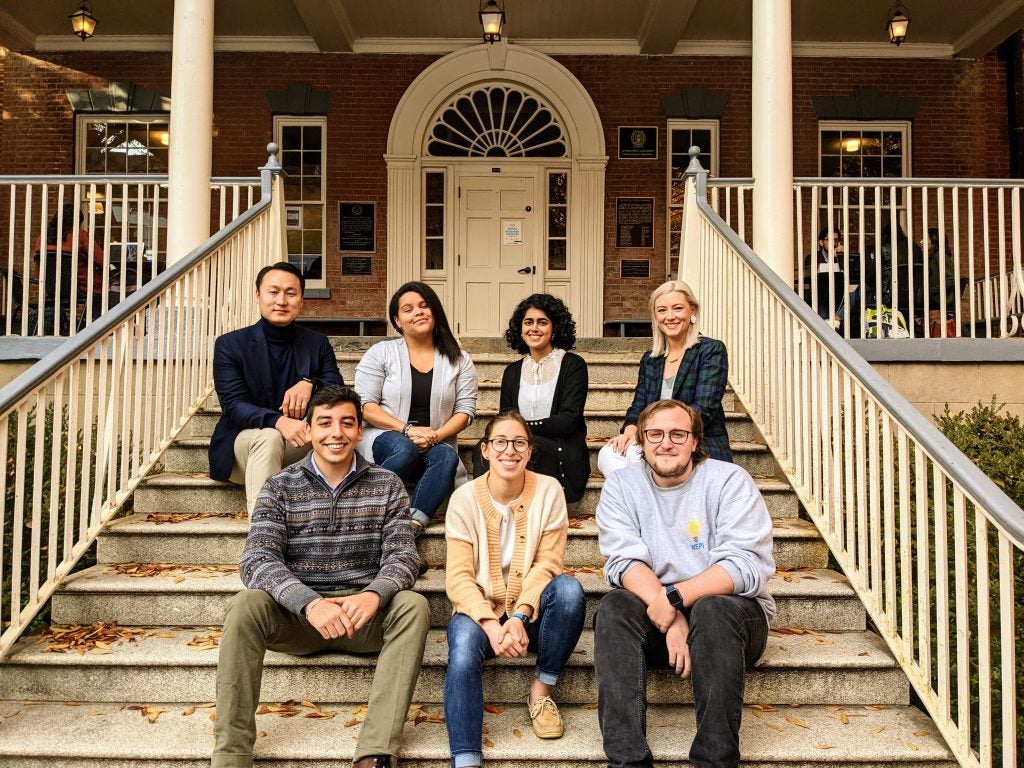 The McCourt Education Policy Initiative (MEPI) is Georgetown's premier education policy student organization. MEPI facilitates policy dialogue, professional growth experiences, and interdisciplinary collaboration through our speaker events, policy chats, and service initiatives in the DC community. Last year's notable events included Kaya Henderson, Chancellor of DC Public Schools, and a yearlong policy thesis mentoring program with Cesar Chavez PCS.
MEPI meets in person twice per month and welcomes all McCourt students to apply for roles. In the coming years MEPI plans to diversify their speaker series, increase the reach and impact of their service initiatives, and create a comprehensive database of recommended internships and alumni contacts in the education sector.
East Asian Policy Association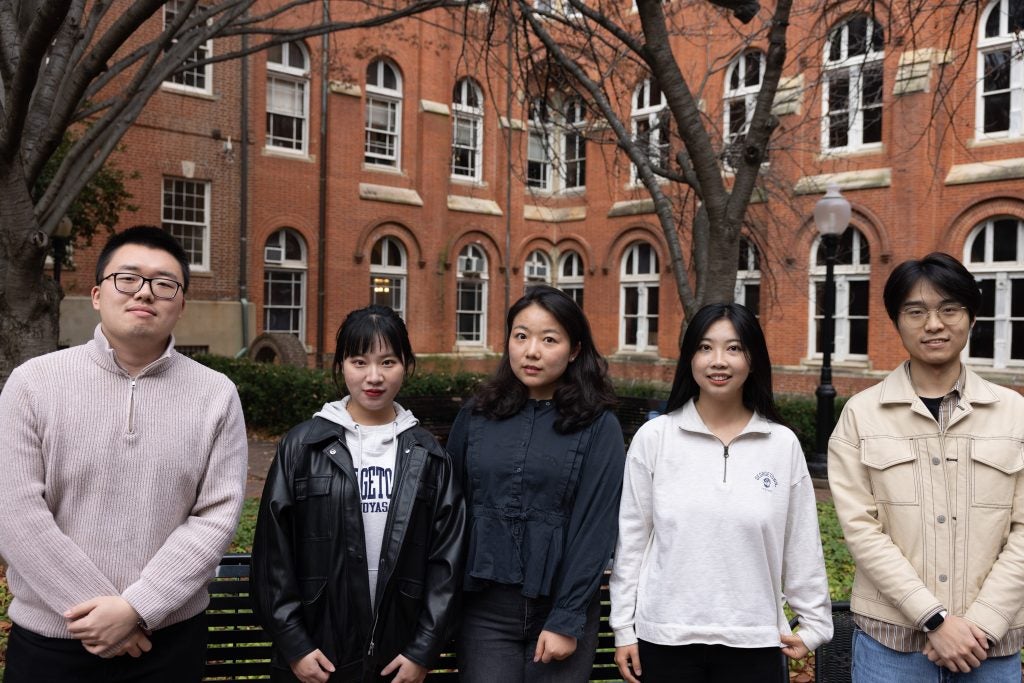 East Asian Policy Association (EAPA) aims to create a platform engaging McCourt students in discussions related to East Asian policies and political issues, and providing career development opportunities for students pursuing a career in East Asian policy fields.
EAPA hosts many events exploring topics related to East Asian region with engaging researchers and experts in governments, think tanks and international organizations. This has included policy discussion panels on regional economic relations, political population challenges, climate change, and social innovations. EAPA also hosts networking events for providing career opportunities and culture events for providing unique access to East Asian culture.
AfriKa: African Policy Student Association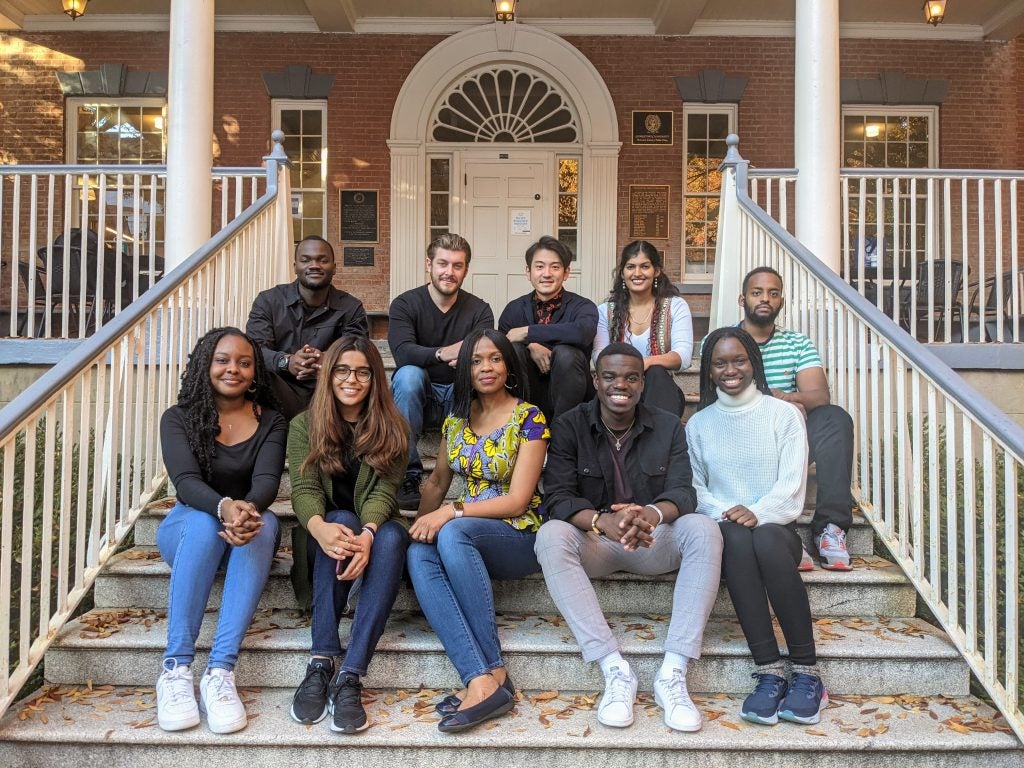 AfriKa: African Policy Student Association is a newly founded student organization at the McCourt School of Public Policy and the first of its kind to focus on African policy issues. Our goal is to provide knowledge and enhance interest and awareness on African policy and development. We organize several activities during the academic year such as seminars, movie screenings or panels on topics related with the continent. Professors on public policy, political science or economy participate in our events as guest speakers. Join us to know more about this continent in any of these events! Do not hesitate to contact us through the mail, Twitter, Instagram or Facebook if you have any questions. We hope you see you soon!
South Asian Policy and Research Initiative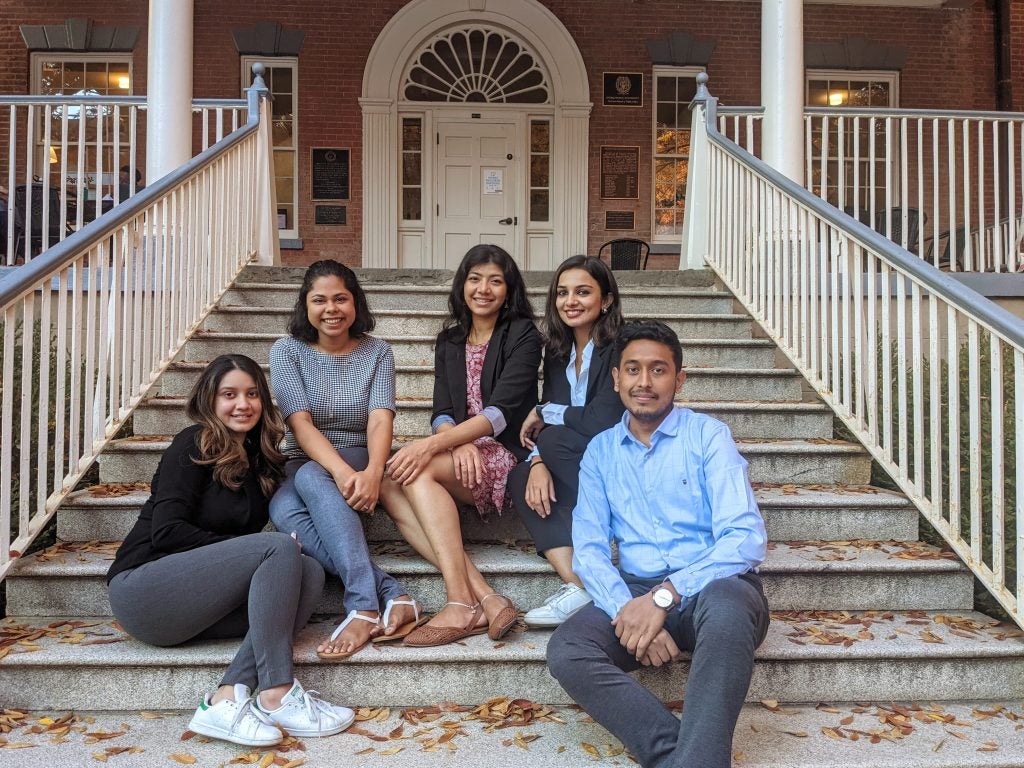 The South Asian Policy and Research Initiative (SAPRI) is a student-led initiative dedicated to raising awareness on the critical development challenges facing economies in South Asia and promoting evidence-based policies in the region. By engaging with policymakers, researchers, development practitioners, and other policy experts, SAPRI will also strive to be a resource for all students interested in exploring relevant research and employment opportunities relating to South Asian economic development.
SAPRI members are encouraged to create their own events and promote their own thoughts. SAPRI hosts some events annually that are highly anticipated. Such events include the celebration of color with Diwali, and a celebration of diversity in McCourt with International Language Day. We encourage people of all backgrounds to join our initiative, and interested parties to reach out at sapri@georgetown.edu.
Georgetown Technology Policy Initiative (GTPI)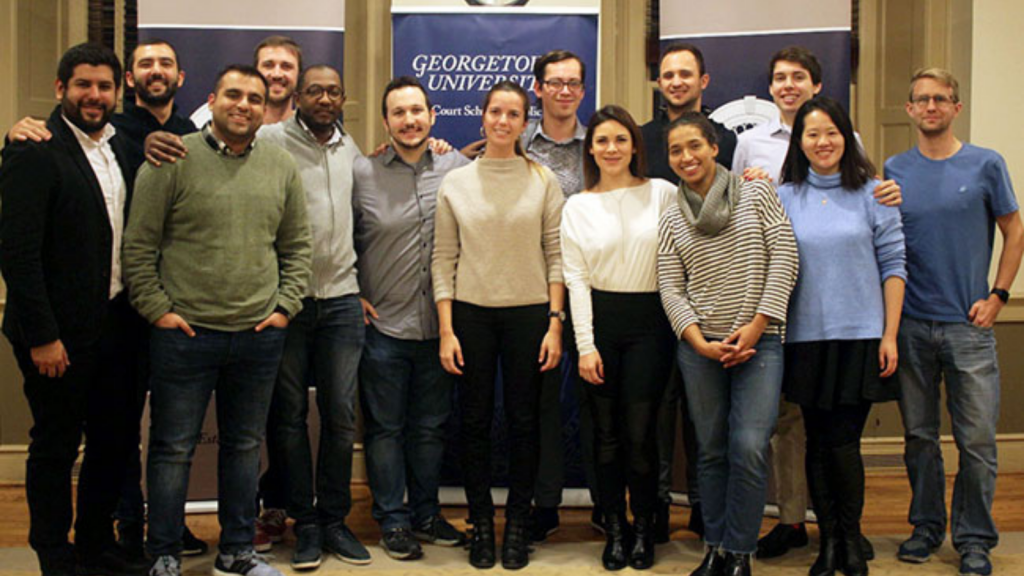 The Georgetown Technology Policy Initiative (GTPI) fosters community and discussion among students interested in technology and public policy, hosts events and organizes field trips to educate McCourt students and the broader university community on current issues in the field, and connects students to experts and career opportunities in technology policy.
Food and Health Research at McCourt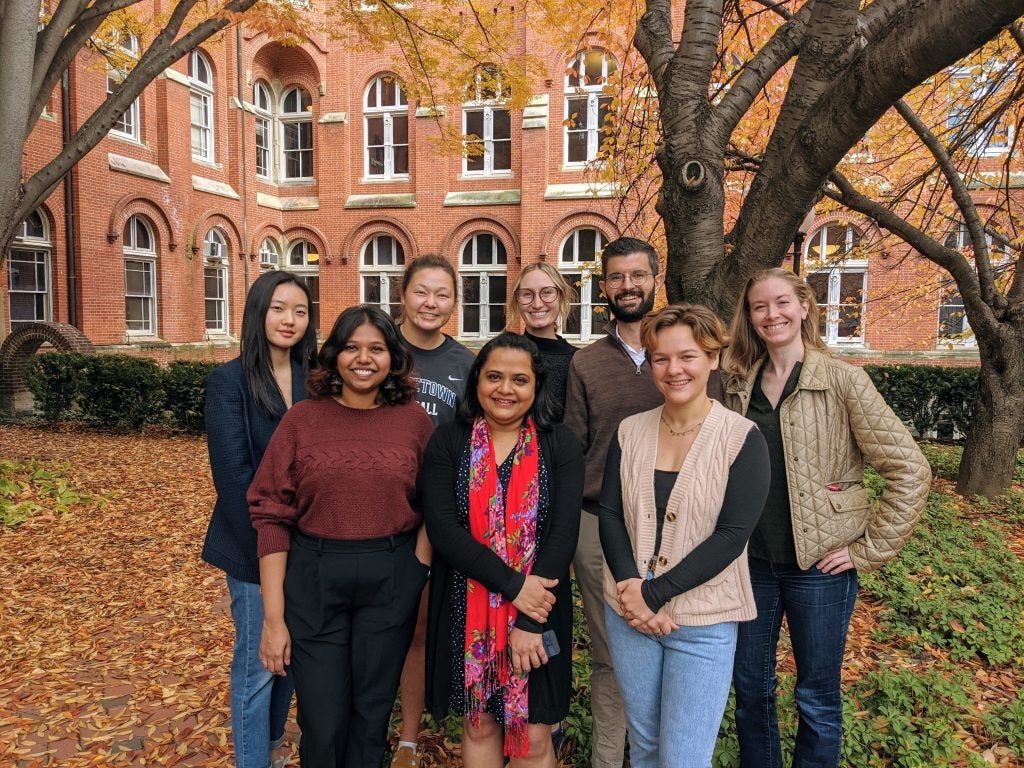 Food and Health Research at McCourt (FaHRM) seeks to elevate the dialogue on global food security, nutrition, and health, both within McCourt and across Georgetown at large. Our primary aims are threefold:
1) connecting the McCourt community to practitioners leading the charge and engaged in the critical policy debates related to these issues;
2) enhancing our knowledge of the key tools required for policy making in approaching these topics; and
3) pursuing opportunities to become engaged in helping communities advance their nutrition and health outcomes.
National Defense Policy Initiative (NDPI)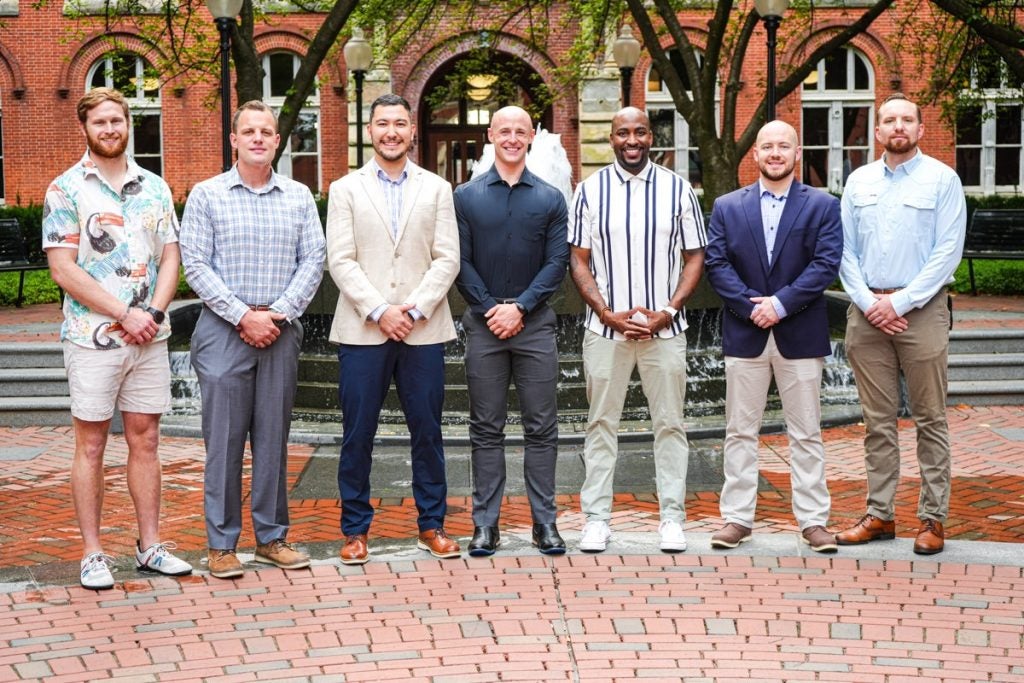 The National Defense Policy Initiative (NDPI) is a joint effort of military and civilian students who seek to exchange professional experiences and promote positive, long-lasting relationships within the McCourt School and Georgetown University. McCourt has a long history of military-associated students, and so the National Defense Policy Initiative looks to increase awareness and understanding of the Profession of Arms as well as provide a working knowledge of military organizations, which is essential for students interested in government work domestically or abroad.
NDPI of GU (@ndpigu) • Instagram
Black Perspectives on Public Policy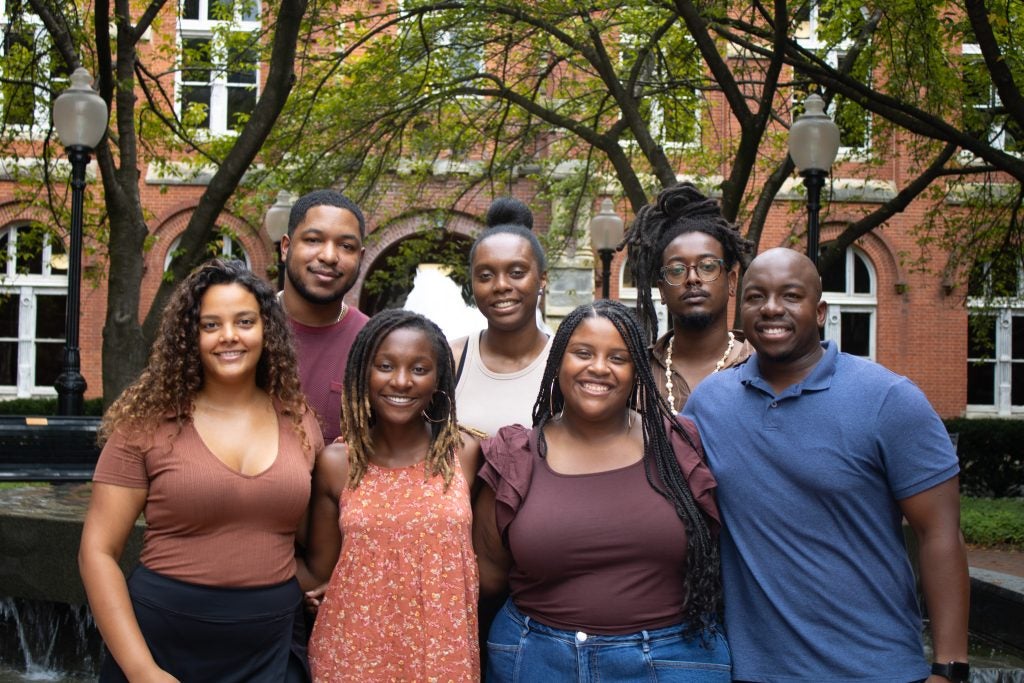 Black Perspectives on Public Policy (BPoPP) is a student organization committed to exploring the implications of public policy in all fields on the Black experience primarily in the United States. The organization prioritizes creating safe spaces for Black-identifying graduate students while hosting policy-relevant conversations accessible to all students interested in learning more about creating racially equitable and accessible policy. BPoPP hosts candid conversations with experts about current policy issues, invites researchers from a wide array of fields and policy areas to discuss their research, while collaborating with other student organizations to highlight the intersectionality and relevance of Black perspectives in policy making.
Want to connect with BPoPP and learn more about our work? Connect with us here!
McCourt Energy & Environment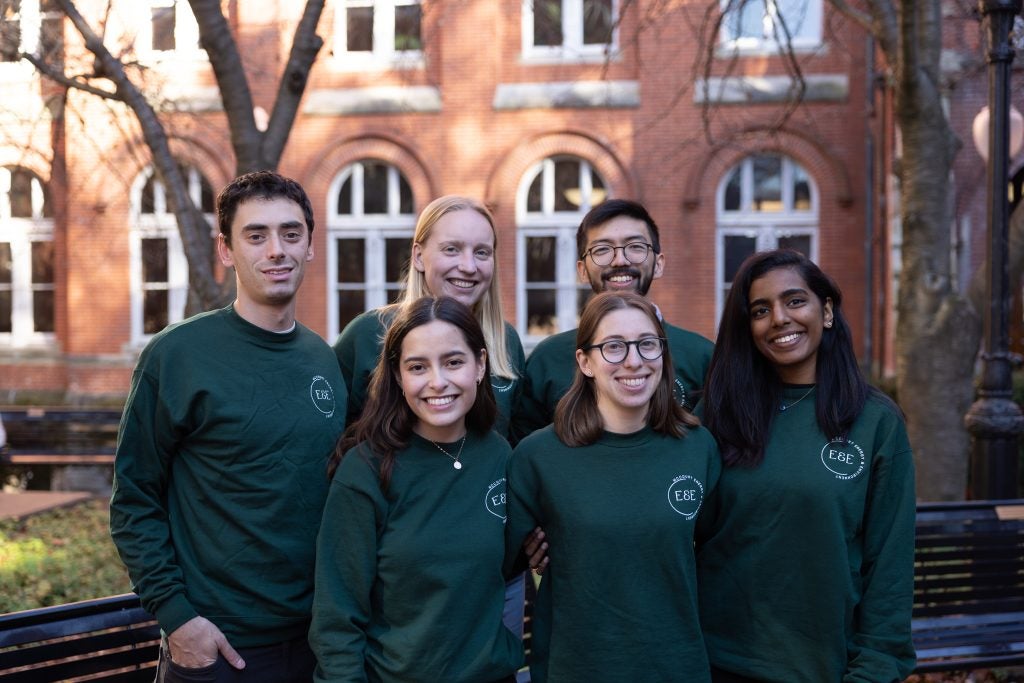 Energy and environmental concerns are among the most important challenges facing policy makers today. Federal, state, and local lawmakers will all face consequential policy choices related to climate change in the coming years. These may include how to: ensure coastal cities are resilient in the face of rising sea levels and storm surge, address reduced water supply in agriculture, find new sources of power that ensure an operational electric grid during natural disasters, increase energy efficiency in industrial, commercial, and residential sectors, address public health concerns by improving air and water quality, secure a sustainable food supply for growing populations, and much more. The challenges of environmental and energy policies will only become more important as governments try to grow their economies efficiently and equitably during the transition to greener forms of energy, and as awareness of environmental justice grows.
The McCourt Energy and Environment Club (hereafter, E&E) aims to offer events to its members, all of which focus on energy or environmental policy. In the past, events have included: community service opportunities; visiting renewable energy sites; the E&E speaker series, which brings policymakers and researchers to the Hilltop to debate topics in energy and environmental policies; and career development gatherings, where E&E members can network with professionals and alumni in the environmental and energy policy space. The E&E leadership is devoted to serving its members by maintaining a robust schedule of events.
Migration & Refugee Policy Initiative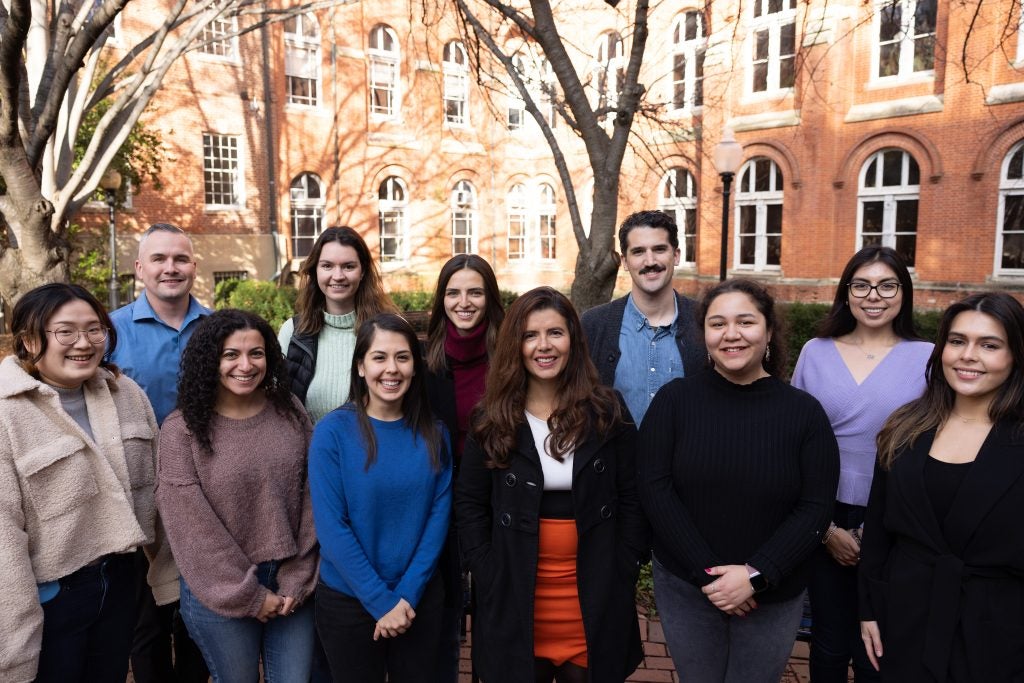 The McCourt Migration and Refugee Policy Initiative (MRPI) at the McCourt School of Public Policy aims to examine contemporary migration and refugee policies through student engagement with practitioners and researchers in the field. The Initiative works to promote evidence-based policy discussions among the Georgetown community and engage with practitioners and researchers examining contemporary migration issues by:
Encouraging innovative policy ideas to address immigration and integration challenges more effectively
Supporting advocacy efforts and expanding narratives around migration
Overcoming disinformation with data and informed decision making
European Policy Organization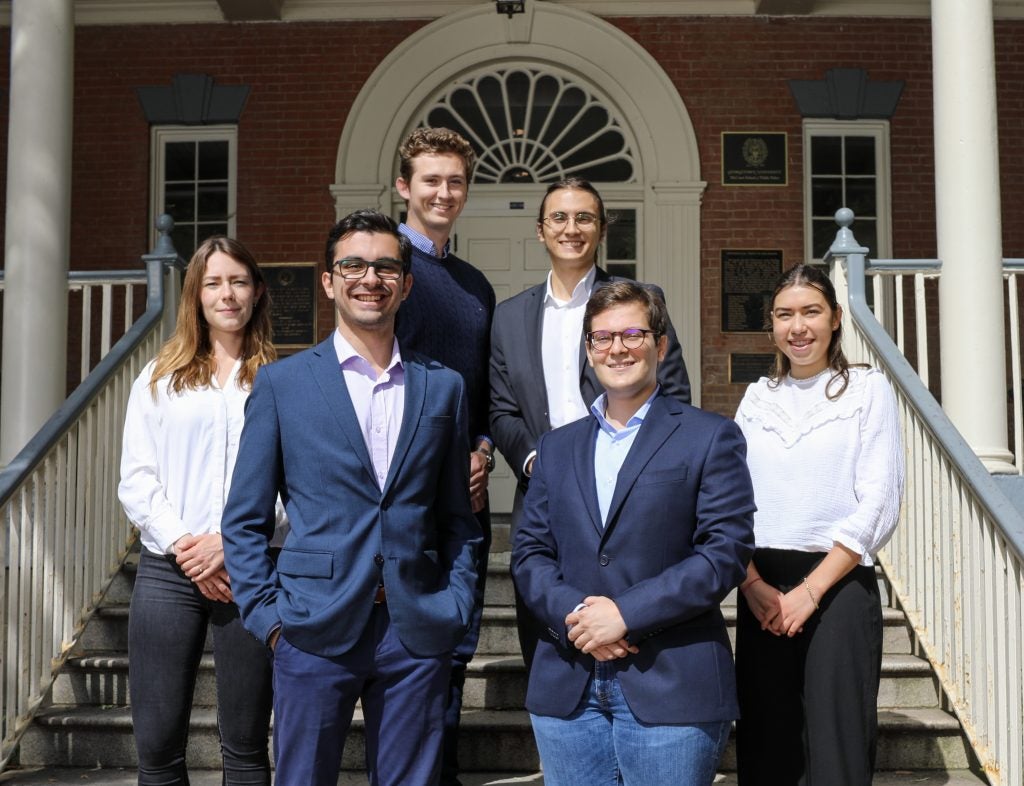 The European Policy Organisation (EPO) at the McCourt School of Public Policy is a common home for all those interested in European policy and politics and how it correlates with the rest of the world. EPO's mission is to inform the Georgetown and Washington DC Community about the role that Europe plays in the world stage, offer a European perspective about the challenges of our times and include the European
Region on the agenda of public policy and political debate in the McCourt School of Public Policy.

The EPO aspires to be a bridge between Europe and the US and create a diverse and inclusive community of people working towards a more just, equitable, and sustainable world.
Development Implementer Group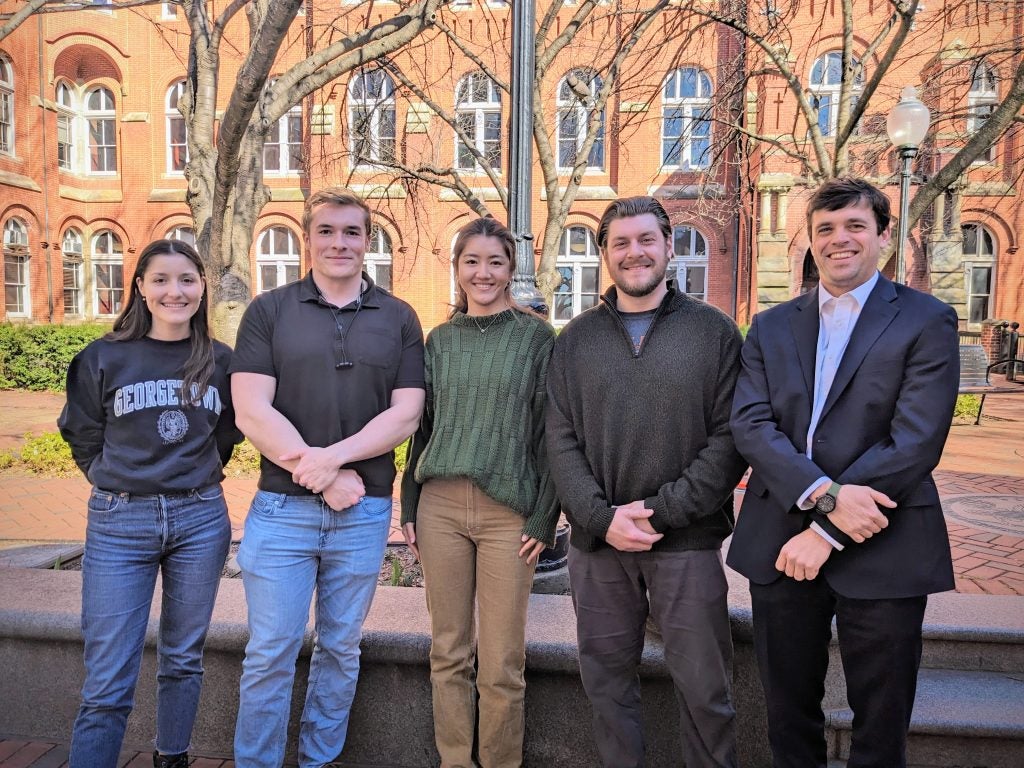 The Development Implementer Group (DIG) seeks to offer students the opportunity to learn essential project management and leadership skills within the international development sector through workshops, activities, and lectures. DIG also engages students by partnering with development-focused organizations to solve real development challenges and gain practical experience. During the academic year, we seek to host several events including speaker series, networking events, and practical workshops to support professional development.