Internship Profiles Anchor
Internship Profiles
The program combines the historic strengths of the McCourt School's public policy analysis curriculum with the cutting-edge computational, mathematical, statistical methods training of the Georgetown Graduate Analytics program.
The MS-DSPP trains students to apply data science methods to public policy questions– like economics and job creation, health and health care, and education– in new and innovative ways.
Oriented towards public service and civic engagement but relevant in the private and nonprofit sectors, graduates of the MS-DSPP program will not only be trained in the tools of data science and quantitative public policy analysis, but also in communicating their solutions effectively in the policy world.
Back to Top
Andrea Quevedo (MS-DSPP '21)
World Resources Institute (WRI)'s Climate Program
Andrea was a Data Science Intern at the World Resources Institute (WRI)'s Climate Program supporting Power Explorer, a project seeking to provide open access to global data on power production and its impacts.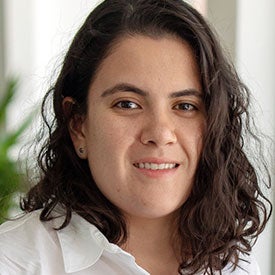 Douglas Hummel-Price (MS-DSPP '21)
Data Coalition
Douglas spent his summer as a graduate policy research intern at the Data Coalition, a trade organization dedicated to enacting standardized, open, machine-readable data throughout the Federal Government.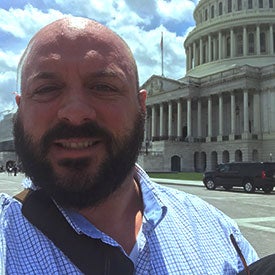 Career Events Anchor
Career Events
Annual Analytics Career Fair:
The Analytics program hosted the second annual Spring Career Fair for graduate students in Analytics, Computer Science, Mathematics/Statistics, and Public Policy on Friday, February 22, 2019. The Career Fair is a great opportunity for students to interact with representatives from local companies in a relaxed, intimate setting that allows the employers to become familiar with our students and their qualifications. The companies are seeking students for internships as well as full-time employment after graduation.
Cawley Career Education Center:
Every year, the Cawley Career Education Center brings employers from around the country to recruit Georgetown students and alumni for full-time and internship opportunities in a variety of industries. These career fairs are offered exclusively for degree seeking Georgetown University students and degreed alumni. Events include: Health, Science, Analytics, & Tech Career Fair and the Annual Career Fair.
Fall 2019 Health, Science, Analytics and Tech Career Fair:
The Fall 2019 Health, Science, Analytics and Tech Career Fair will be held Thursday, September 26, 2019, 4-7pm in the Georgetown University Hotel and Conference Center Ballroom. All majors and degrees welcome, with a focus on interests and skill sets in health, science, technology, and/or quantitative analysis.
Back to Top
Employment Outcomes Anchor
Employment Outcomes
McCourt Employment Outcomes:
McCourt graduates thrive in the public, private, nonprofit, and multilateral sectors. Each year, students are surveyed six months after graduation.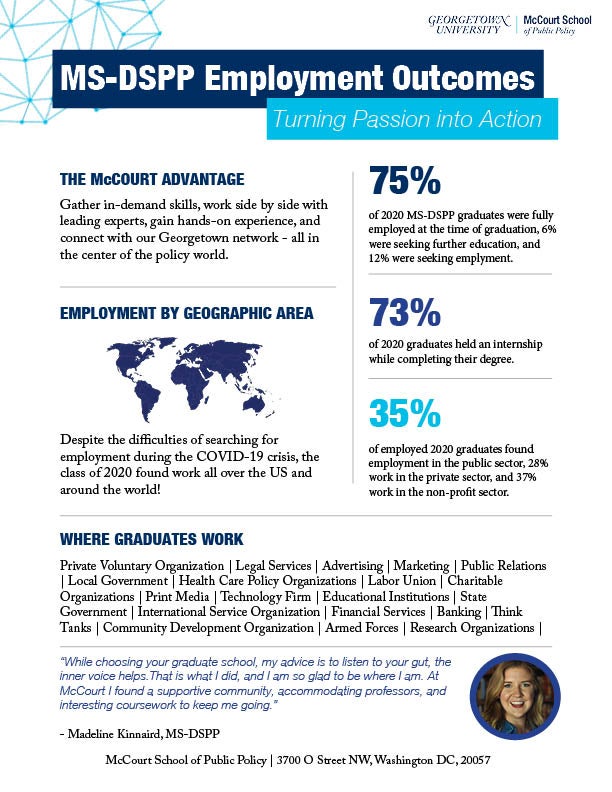 For the classes of 2013 through 2015, 91% of graduates that responded were employed or furthering their education six months after graduation. Examples of recent employers include:
Booz Allen Hamilton
Center for Global Development
Consumer Financial Protection
Bureau
City of Baltimore
Deloitte
European Central Bank
Evidence Action
Federal Reserve Bank of New York
International Finance Corporation
Mathematica
McKinsey & Company
Office of Senator Dick Durbin
Pew Research Center
SAP
The Brookings Institution
The Import-Export Bank of China
The World Bank
The Urban Institute
Twitter
UAE Prime Minister's Office
U.S. Department of Health
and Human Services
U.S. Department of Transportation
Analytic Program Employment & Internship Outcomes:
Employers agree that a good knowledge, coupled with strong exposure to analytic techniques and database management tools, are key to success in rewarding data science careers. Typical employers of Georgetown Data Science students include financial institutions, consulting firms, retailers, and analytics groups including:
Amazon
Booz Allen Hamilton
Capital One
Discover Financial Services
US Digital Service at the White House
Tecolote Research, Inc.
Mathematica
Red Alpha
American Society for Engineering Education
Deloitte
Caila
Optimal Solutions and Technologies
Service Employees International Union
Micron
PwC
Urban Institute
Lawrence Livermore National Laboratory
Ancestry
Infoblox
Systems & Technology Research
Africare
IMPAQ International
International Finance Corporation
International Food Policy Research Institute (IFPRI)
International Growth Centre (IGC)
International Monetary Fund
Women for Women International
TD International LLC.
The Asia Foundation
Back to Top