Jannet Esparza (MPM'23) and Carlos Beltran (MPM'23)
Jannet and Carlos, who met in an introductory political science course as undergraduates at California State University Fullerton, began their careers working for nonprofit organizations and state government. When Jannet was looking to pivot in a new direction, she and Carlos decided to apply to graduate school. Although Jannet and Carlos already earned master's degrees in sociology and education, respectively, they chose to apply to the McCourt School as an opportunity to expand their career paths.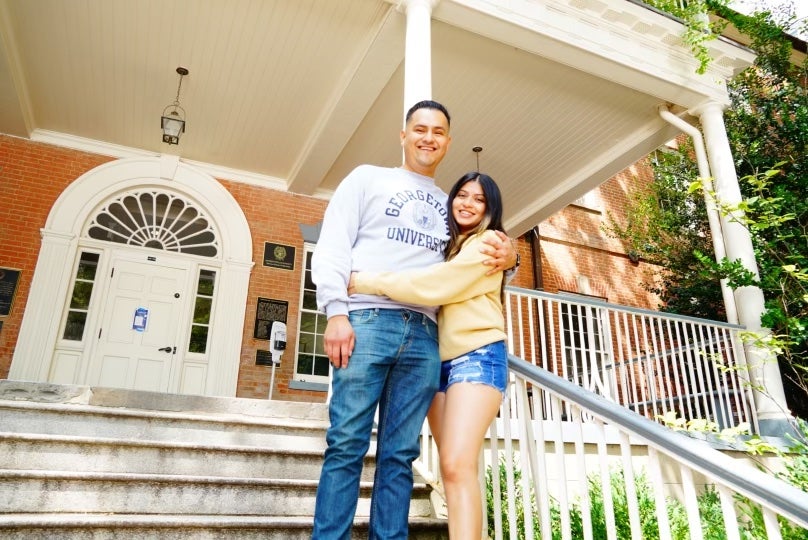 "McCourt has reignited our shared passion for public policy, politics and social justice," said Esparza. After graduation, she and Carlos see themselves continuing their commitment to public service and working for the federal government as policy practitioners.
"In the future, we hope to return to California," said Beltran. "And we may even pursue additional degrees in law."
Jannet and Carlos, now married, advise current students pursuing love to focus first on career goals and passions. "Use your time at McCourt to increase your love for policy and public service," said Esparza. "Love, and your soulmate, will arrive at the right time."
Bobby Clark (MPP'06) and Kristopher Rose (MPP'18)
Bobby and Kris met in a friend's kitchen at a holiday party. After more chance encounters over the years, Kris asked Bobby out on a date via Facebook, and things quickly evolved from there. Within a few months, they were in a relationship, and a few years later, they were engaged and living with their dog, Bernie, in a home they own together in Capitol Hill.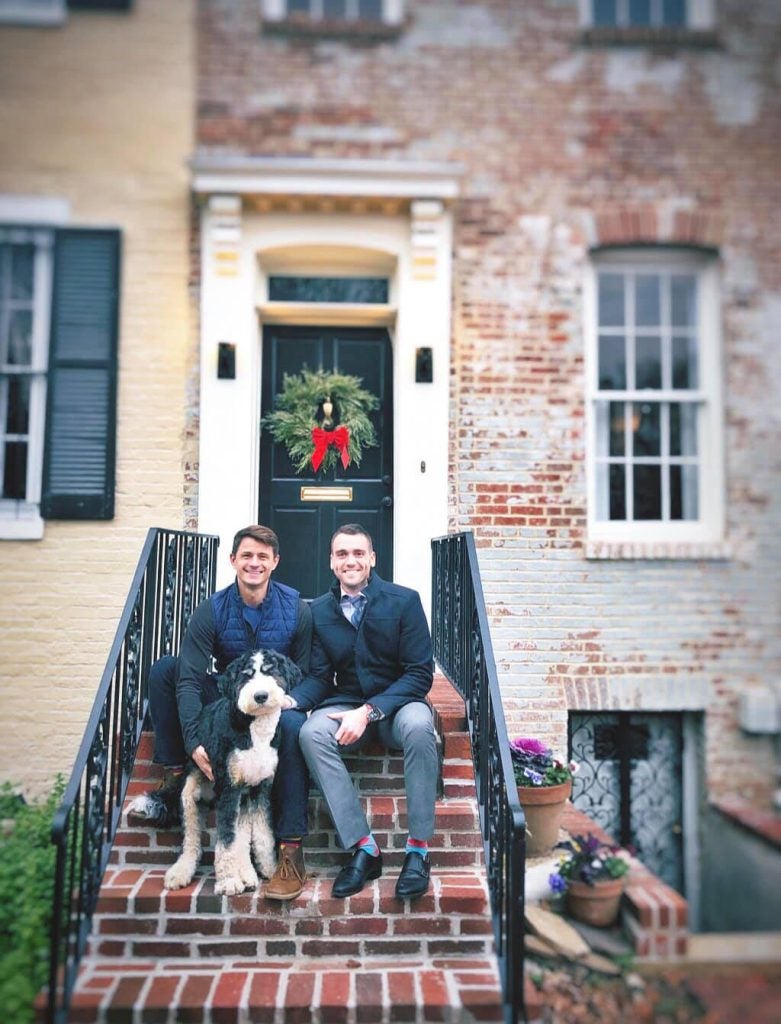 Bobby leads the health policy and advocacy practice at Pyxis Partners, a public affairs and social impact firm focused on improving health equity, affordability and accessibility. He also teaches health policy as a part-time faculty member at George Washington's Milken Institute School of Public Health. After a decade of service at the Central Intelligence Agency, Kris recently completed another tour of duty within the federal government, serving as a senior advisor to the director of the Cybersecurity Infrastructure and Security Agency at the Department of Homeland Security. He's also currently fulfilling a term membership on the Council of Foreign Relations.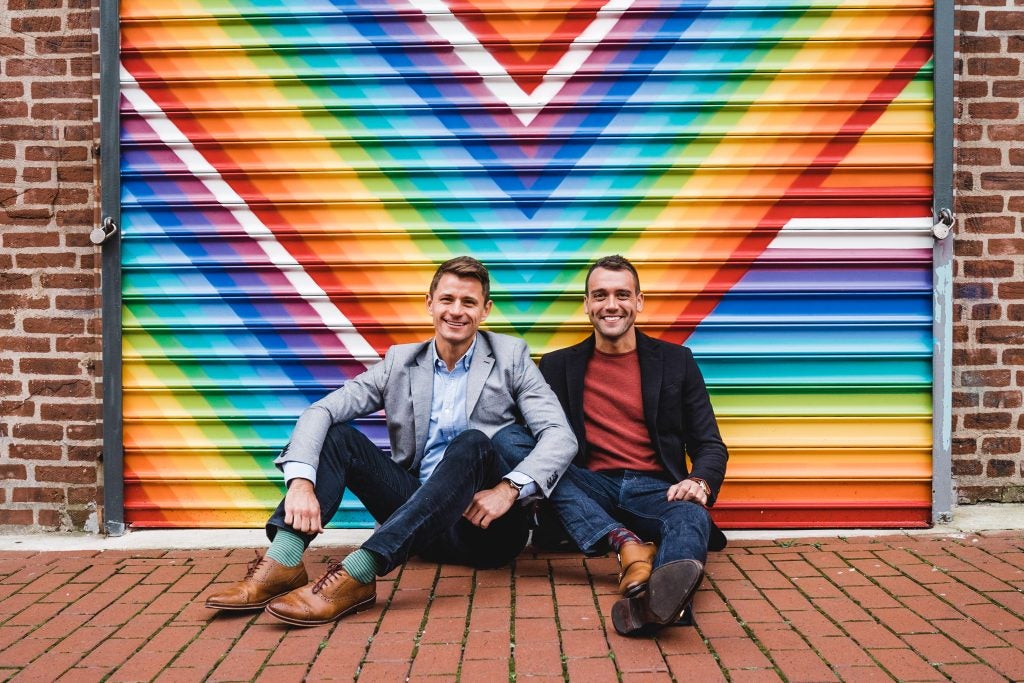 "The best advice I have ever read on finding the 'perfect person' came from a New York Times opinion article," said Clark. "Alain de Botton, author of the novel The Course of Love, wrote, 'The person who is best suited to us is not the person who shares our every taste (he or she doesn't exist), but the person who can negotiate differences in taste intelligently — the person who is good at disagreement… Compatibility is an achievement of love; it must not be its precondition.'"
Mariel Jackson (McCourt School Staff) and Andrew Gibson (G'20), PhD (G'24)
Although Mariel and Andrew did not meet on campus, Georgetown has been a part of their love story from the very beginning. They met shortly before Andrew began his Ph.D. program in Georgetown's Department of Government, and when Mariel had aspirations of working in higher education. In the fall of 2021, she joined the McCourt School of Public Policy as the associate director of communications and is currently earning a graduate certificate in Gender, Peace and Security through the Georgetown Institute for Women, Peace and Security.
Mariel and Andrew often commute together on the GUTS bus and can be seen meeting for lunch in Lauinger Library or a coffee break at one of The Corp outposts on campus. They are regular fixtures at McCourt School and Department of Government events.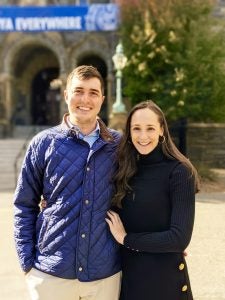 This summer, Andrew will teach a course on political and social thought, and Mariel will begin her third year as a McCourt School staff member. They will also celebrate their fifth anniversary. For the time being, Mariel and Andrew are focused on advancing in their professional careers but hope to tie the knot and welcome a dog to their family in the coming year.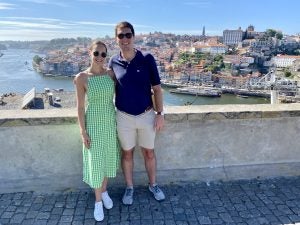 "We are very lucky that we found each other in DC and that our love has grown in sync with our relationships with Georgetown and the many wonderful friends and colleagues we have here," said Jackson. "We will always cherish the lifelong connections we have made on the Hilltop."
Jacques Arsenault (BA'01, MPP'07) and Elizabeth Grimm, PhD (G'10)
Jacques and Elizabeth met in 2003, when they were set up on a blind date by one of Jacques's former Georgetown undergraduate roommates. They were engaged in October 2004 and married one year later in Dahlgren Chapel, during Jacques's second year as a Master of Public Policy student and Liz's first year in the Ph.D. program in Georgetown's Department of Government. The couple's family and friends gathered for a reception in Copley Formal Lounge following the intimate ceremony.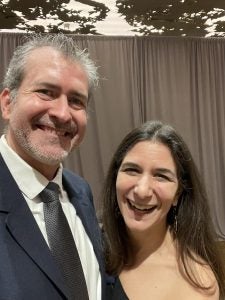 "We were pretty connected to the Hilltop as we planned a wedding in the midst of graduate school," said Arsenault. "But we had no idea just how big a role Georgetown would play in our future lives."
Seventeen years later, Liz and Jacques live in a Faculty-in-Residence apartment with their three children, Hugo, Andre and Lulu, all of whom have attended Hoya Kids Learning Center, and their three-legged dog, Crouton, who is a celebrity in his own right.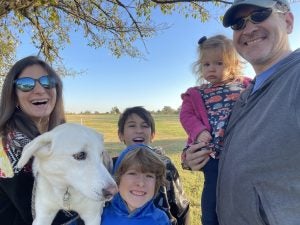 In addition to their family's role on campus, Elizabeth is an associate teaching professor in the School of Foreign Service, teaching in the undergraduate program and the graduate security studies program, and is the author of How the Gloves Came Off: Lawyers, Policy Makers and Norms in the Debate on Torture and co-author of the recently-published Terrorism in Transition. Jacques is the director of digital communications for the U.S. Government Accountability Office, a lecturer in social media management at Georgetown's School of Continuing Studies and the founder of Post-Grad Compass, a website with tips and resources for life after college.