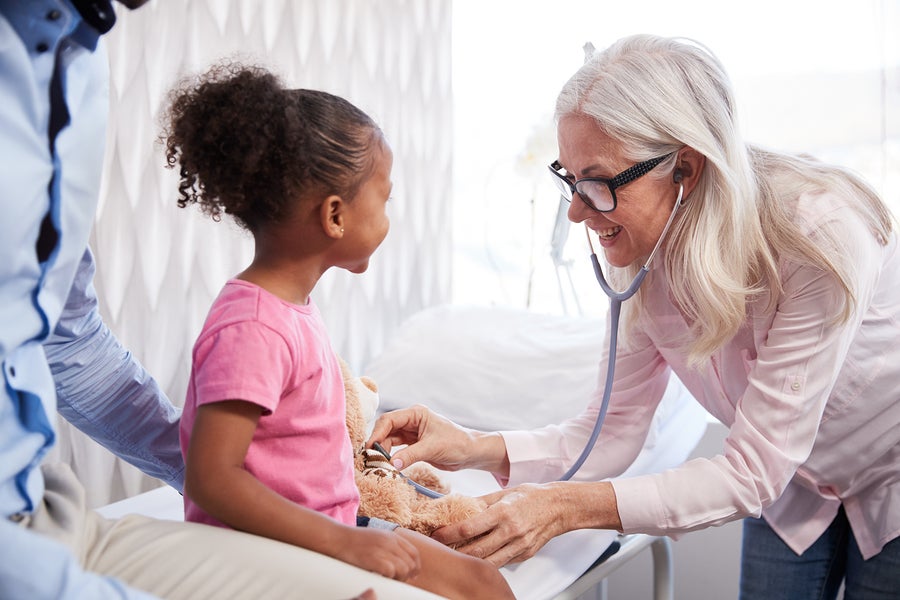 Tracking Children's Health Insurance Coverage
Kids and teens are quietly losing their health insurance at unprecedented rates across America. Sounding the alarm: McCourt's Center for Children and Families (CCF), with recent headline-grabbing reports that reveal disturbing declines at the state and national level.
"This is a huge red flag," says Joan Alker, CCF's executive director and a co-founder whose been tracking health insurance trends, particularly for low- and moderate-income families, since 2005. "After a decade of record progress, we're losing ground. It's especially troubling during a time of economic strength. Uninsured children fare worse than insured children in so many ways. Their families have more difficulty accessing primary and preventive care and prescription drugs. This can lead to a worsening of health problems, such as asthma, that lead to more missed school days and lower graduation rates."
A November 2018 CCF report found that the number of uninsured kids and teens in the U.S. increased for the first time in a decade, rising by 276,000 between 2016 and 2017. "I've written this report for eight years in a row now, and I found it even more notable that no state, except for the District of Columbia, saw any measurable progress in reducing the number of uninsured children in 2017," Alker notes.
In April 2019, the CCF released state-level reports on health insurance for lower-income kids under Medicaid and Children's Health Insurance Program (CHIP). Together, the programs cover more than 1⁄3rd of school-age kids and nearly half of children under age 6 in the US. But enrollment fell by 828,000 in 2018—including a drop of 152,515 children in California, 145,781 in Texas and 88,305 in Tennessee. Overall, a total of 912,000 kids and teens lost coverage in 38 states while gains were made in a few and coverage stalled in others.
Behind the Numbers
Alker suspects new fears, misinformation and red tape are keeping families from signing up or renewing kids' health coverage. "They may have heard all the media reports about fights over funding and think their program has been cut back," she says. "The federal government is spending less on marketing and educational materials that help people navigate Medicaid and CHIP, which could discourage people from getting through the red tape. And we're hearing about a lot of fear in immigrant families that a parent will be detained or deported if they sign up."
CCF is part of McCourt's Health Policy Institute and works with a wide variety of state and national partners to develop and publicize its work. CCF papers are frequently cited on Capitol Hill, in reports by other advocacy groups and in media ranging from the Washington Post and CNN to state and local newspapers and TV stations. Media coverage of CCF's uninsured children report reached 100 million people – and over 10,000 downloaded it directly from the center's website.
"Our mission is to inform the public debate about good policy solutions that promote high quality health insurance coverage," Alker says. "In recent years, the demand for our work has never been higher. We don't operate in an ivory-tower environment. We're out there writing blog posts, tweeting and creating accessible reports that anyone can read."
Sometimes, the debate – and CCF's reach – is hyper-local, Alker proudly points out. "Last year the manager of an apartment complex in Florida contacted me after the uninsured children report came out," she says. "He was concerned about it. In discussions with tenants, he heard frequently that people thought the uninsured kids were mostly immigrants – which is not the case. He wanted real facts to share. That's our job."