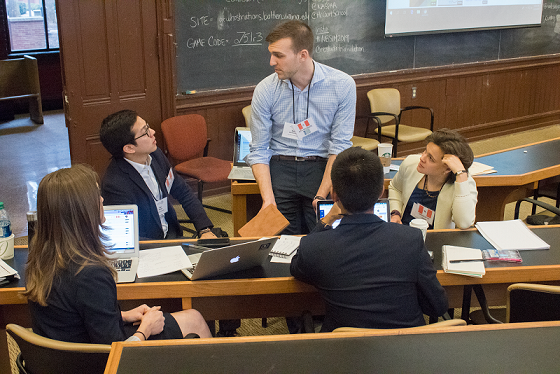 The McCourt School was proud to serve as a host site for the 2019 NASPAA-Batten Student Simulation Competition.
This year's competition—a partnership between the University of Virginia Frank Batten School of Leadership and Public Policy and the Network of Schools of Public Policy, Affairs, and Administration (NASPAA)—was called Host Nations: A Refugee Simulation.
Sixty graduate students from across the region came to McCourt to complete a web-based experiential learning simulation, taking on roles such as Prime Minister, Minister of Labor, or Minister of Health and Human Services, while managing a simulated influx of migrants.
Seven McCourt students competed in this year's simulation, including the all-McCourt "Capalla" team, composed of Megan Reichert (MPP'19), Ben Mindes (MPP'19), Nancy Dietman (MPP'19), Kyle Burkholder (MPP'19), and Rafael Contreras (MPP'20).
Prakesha Mathur (MPP'19) and Dushyant Tyagi (MPP'20) also volunteered for the simulation, and were teamed up with other policy students from around the DC area.
The Capalla team, who had strong refugee work experience before the event, also prepared for the simulation by doing research into contemporary global migration crises, with a focus on the one unfolding in Syria.
The NASPAA-Batten simulation consisted of a series of games in which teams responded to an evolving migration crisis online. After the fifth round, teams were given 45 minutes to write a memo and create a 7-minute presentation, followed by Q&A, to determine the "winner" in that particular game.
The McCourt team, relying on its members' diverse skill sets in refugee policy, memo-writing, and public speaking, placed second.