PPTs as potential solutions to education data privacy concerns
Privacy preserving technologies (PPTs) are a group of cryptographic techniques that increase data protection while allowing for greater data utility. They work by masking personal identifiers, automating access rules, and altering outputs to protect individuals and groups from harms. Here, we show the various ways education data owners can mitigate privacy risk across input and output privacy. Input privacy refers to the protection of student records from unauthorized access during matching or analysis, whereas output privacy refers to the protection of student identities when publishing statistics or results.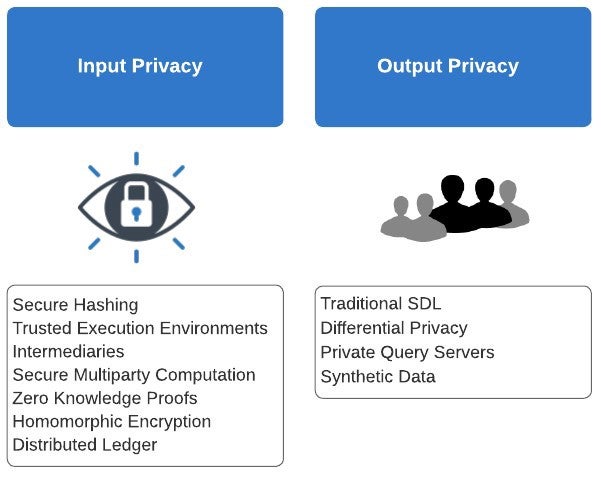 All solutions listed here are PPTs, with the exception of intermediaries and statistical disclosure limitation (SDL). While we recognize that many successful approaches involve blending more and less technical methods to meet organizations' privacy objectives, PPTs allow for greater and safer data linkages, data sharing, and data mining than traditional methods alone. PPT adoption can improve student service delivery, education outcomes measurement and program evaluation, internal agency operations, and institutional compliance reporting.
In fact, they already have. PPTs have been implemented by Washington state's education agency to allow external researchers access to school and workforce data, at the Georgia Policy Labs to securely link government agency and school district data, and by the U.S. Census Bureau to safely publish earning and employment outcomes for postsecondary institutions. Through our qualitative research, we found 18 total PPT demonstrations or implementations such as these in the current education space, with three more in development.