A young reader's novel from a former White House speechwriter, a landmark volume on the sociology of housing, a rejection of White Christian Nationalism, a guide to addressing societal challenges, an indictment of America's housing policy: These are just a few of the books on a wide range of topics that Georgetown's McCourt School of Public Policy faculty members have authored or edited lately.

Beyond Quick Fixes: Addressing the Complexity & Uncertainties of Contemporary Society
By William B. Rouse
In his newest book, McCourt School Research Professor William B. Rouse outlines and illustrates an integrated approach to collectively address four pressing societal challenges: health, education, energy and social media. Beyond Quick Fixes, available late 2023, calls for anticipatory and preparatory policies ahead of disaster to mitigate costs over time and save lives.
"Simply rebuilding bridges once they fall, or houses once they are swept away, is expensive and risks human lives," said Rouse. "Anticipation and preparation cost more now, but are much less costly over time."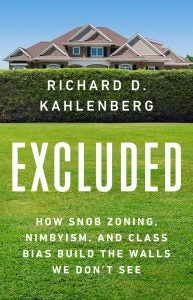 Excluded: How Snob Zoning, NIMBYism, and Class Bias Build the Walls We Don't See
By Richard D. Kahlenberg
Across the country, "snob zoning" housing policies persist, furthering discrimination and perpetuating housing inequality. Excluded, written by Richard D. Kahlenberg, a non-resident scholar at the McCourt School, tells the stories of a growing number of local and national movements working to tear down the walls that inflict so much damage on the lives of millions of Americans.
"In this brilliant book, Richard Kahlenberg deftly integrates quantitative and qualitative evidence to illuminate the basic theme of his career and one of the central controversies in contemporary America — how to reconcile the tension between class and race," said Robert D. Putnam, research professor at Harvard Kennedy School and author of Bowling Alone and The Upswing.

The False White Gospel
By Jim Wallis
New York Times bestselling author Jim Wallis, director of the Center on Faith and Justice and inaugural chair in faith and justice at the McCourt School, focuses his latest book on six iconic biblical texts to challenge the White Christian Nationalism ideology. In The False White Gospel, Wallis calls for a civic faith of love, healing and hope.
"Everyone who claims to be 'Christian' or else claims to be upset by 'Christianity' needs to read this book, especially politicians using people's supposed faith for their own ends," said Margaret E. Atwood, author of The Handmaid's Tale and Alias Grace.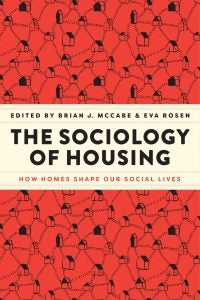 The Sociology of Housing: How Homes Shape Our Social Lives
Edited by Brian J. McCabe and Eva Rosen
Scholars have studied housing policy from a variety of lenses, but The Sociology of Housing aims to provide scholarship to the sociological perspective on housing policy, an understudied field. With contributions from leading scholars, editors Brian J. McCabe, an affiliated faculty member at the McCourt School and the deputy assistant secretary for policy development at the U.S. Department of Housing and Urban Development, and Eva Rosen, an associate professor at the McCourt School, delve into topics like racial segregation, housing instability, the supply of affordable housing and the process of eviction.
"The Sociology of Housing addresses an important topic: how housing is created and, in turn, influences and shapes our lives. Much has been written about the economics and financing of housing. But the multifaceted social influences of housing on society have long been overlooked," said Lance Freeman, James W. Effron university professor of city and regional planning & sociology at the University of Pennsylvania.

White House Clubhouse
By Sean O'Brien
Sean O'Brien, an adjunct professor at the McCourt School and a former White House speechwriter, debuts his first novel, White House Clubhouse, a middle grade series following two First Daughters who team up with historical children to save the nation. Marissa and Clara travel back in time to 1930s America, where they join President Theodore Roosevelt's children, Quentin, Ethel, Archie and Alice, in helping the president "make a difference."
"In his debut novel, Sean O'Brien creates a wildly unique club every kid will want to join," said Peter Lerangis, New York Times bestselling author of the Seven Wonders and Throwback series. "With a blend of suspenseful action, laugh-aloud humor, solid history and a White House insider's knowledge, White House Clubhouse is a page-turning time-travel romp. It's deft, fun and full of surprises."