With a generous gift of $250,000 from Gerri and Rich Wong, the McCourt School is creating opportunities for graduate students to engage with practitioners, gain vital research experience and eliminate financial barriers to their education through research assistantships with the Georgetown University Center on Education and the Workforce (CEW) and scholarship support.
Half of the gift will support existing student programming at the McCourt School's Institute of Politics and Public Service (GU Politics), including their Fellows and Forum programs, and expand future engagement opportunities for students as the Institute looks ahead to the 2024 presidential election. 
"This generous gift supports three critical elements of the student experience — student scholarships, student research and student engagement with public servants," said McCourt School Dean Maria Cancian. "We are deeply grateful to the Wong Family for their leadership and generosity."
"Gerri and I are deeply committed to social impact through access, research and practice," said Rich Wong, general partner at Accel, a venture capital firm. "We are pleased to support future policy leaders and public servants at Georgetown and the McCourt School."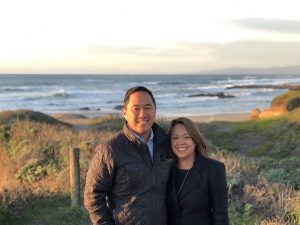 Examining the relationship between education and careers
CEW is a research and policy institute within the McCourt School of Public Policy that studies the links between education, career qualifications and workforce demands. 
With support from the Wongs, McCourt School student Daniella Paradise (MPP'24) will deepen her policy training and contribute to research on issues at the intersection of education and the workforce alongside CEW senior analysts as a research associate beginning in the summer of 2023.
In 2024, the gift will continue to support paid research opportunities, while reducing financial barriers through scholarships for McCourt students committed to addressing education and workforce policy challenges.  
Preparing young people for public service
Founded as part of the McCourt School in 2013 and launched in the fall of 2015, GU Politics is dedicated to reconnecting young people with the notion that politics is a noble vehicle for public service.
In January of 2023, GU Politics welcomed its sixteenth class of Fellows, six professionals across the political spectrum, engaging with Georgetown students on the biggest political challenges impacting our country, and offering students career advice and guidance. 
The GU Politics Forum program brings leading politicians and political practitioners to campus to engage directly with students on the issues of the day. Recent Forum speakers include Secretary Pete Buttigieg, on infrastructure and transportation, and former Vice President Mike Pence, on the future of the conservative movement.
With the 2024 presidential election drawing near and as the COVID-19 pandemic wanes, GU Politics plans to expand experiential learning opportunities for students, including their political immersion trips to political caucuses and conventions.