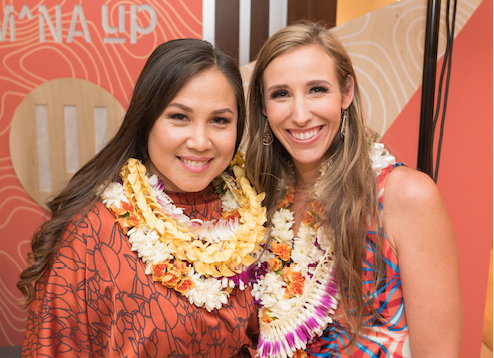 Alum Devotes Her Policy Acumen to Hawaiian Entrepreneurs
Brittany Heyd (JD/MPP '13) was on the fast track for a high-powered law firm job when the lure of the startup world pulled her in another direction. Following her instincts meant a different kind of success: Heyd has now founded several companies that incubate economic development.
For the past two years, Heyd has run Mana Up, a Hawaii-based startup she co-founded. Mana Up fosters economic development in Hawaii by promoting local products and services, things like Hawaiian coffee, eco-friendly sunscreen and coconut cookies. The company provides twice-yearly accelerator programs that give Hawaiian companies advice, connections and access to distribution channels.
Supporting the Creative Economy
How did she end up in Hawaii? Her husband Nick, a native of the state, wanted to be close to family as the couple raised their three children, now one, three and four years old. "Our house is a little crazy – and that's why family is very important to us," she says.
"We're all about creating an industry with interesting, creative, high-level jobs that can create an economy here to support the locals," Heyd says. Metropolitan areas see enormous economic development investments, but the challenge is to create local initiatives to support local culture, she says.
But that path wouldn't have appeared before her, Heyd says, without the convergence of two earlier roles: an internship in the White House Chief of Staff office, where she worked on business community initiatives, along with her public policy and economics courses at McCourt.
"That first year was a formative experience for me," she says. "I got the background and training that I was immediately able to implement at the White House. I was writing memos to President Obama right away."
The Perfect Mindset
That heady experience put Heyd in the perfect mindset to co-found her first startup, 1776, an incubator and seed fund that helps startups involved in education, energy, health, cities, and transportation. She began there in her last year at Georgetown, and became both managing director and general counsel.
A spinoff of 1776, Union, is a software platform that connects investors and startups, where she still serves as general counsel.
When she finished at Georgetown with a dual law and master of public policy degree, Heyd assumed she'd work at the law firm where she had a summer internship. But that job didn't start for another year, and "one thing led to another" and she realized that she could make a bigger difference in the world by fostering entrepreneurs.
Mana Up is growing – with 31 companies now in the portfolio and 70 percent growth each year, the idea of Hawaiian-centric business development seems to be taking off.
"I think I really am in alignment with a lot of those in my generation," she says. "We want our careers to be very values-oriented, and that was what I ended up pursuing. I saw that we could make a difference and fuel innovation."