The 2023 Georgetown Public Policy Challenge grand prize was awarded to William Macci (L'24) and Sparsha Muralidhara (G'23) for their proposal, E-QualityDC, which empowers DC public schools to bridge the digital divide for at-risk students, connecting families to accessible and affordable resources.
E-QualityDC was one of five teams selected as finalists in this year's Policy Challenge. All five finalist teams received a $1,500 scholarship prize, and the winning team received a grand total scholarship prize of $3,000. Macci and Muralidhara presented their proposal live on March 31, 2023, to a panel of five judges, including two former Policy Challenge winners, Catherine Lyons, director of policy and coalitions at the Economic Innovation Group, and Emilia Calma, director of policy and research at the DC Policy Center.
The Challenge, now in its ninth year, presents graduate students from all academic disciplines the opportunity to pool their skills and expertise to develop innovative solutions for the most pressing issues facing local communities.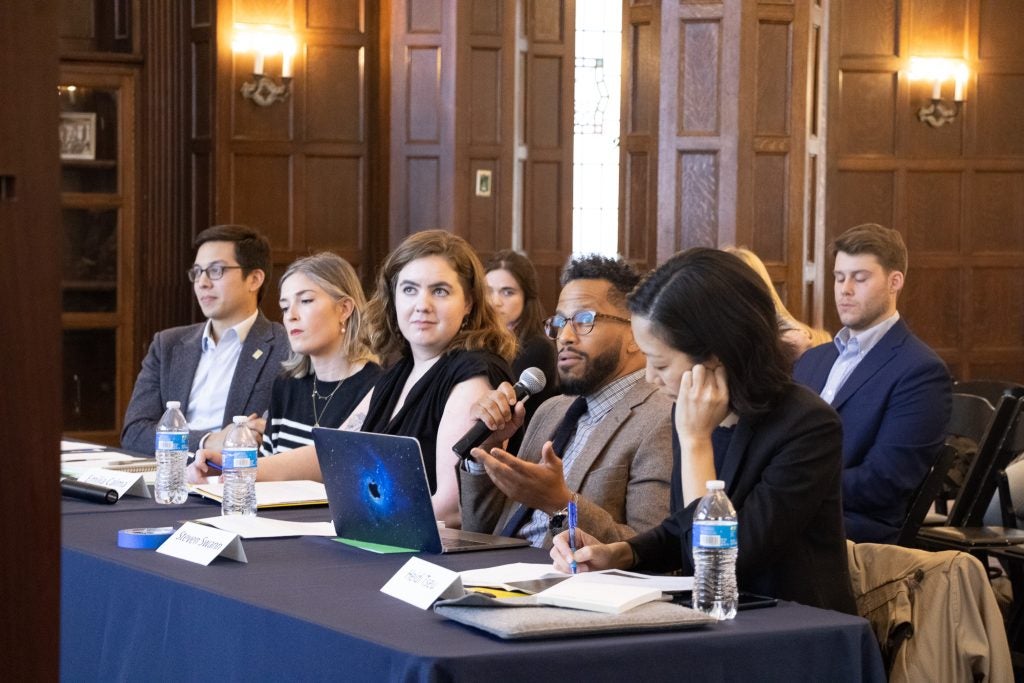 Bridging the digital divide
As Macci and Muralidhara began brainstorming potential policy areas, Muralidhara recalled a student-led program from her time at the University of Florida called the Hotspot Act, which provided routers to students in need of increased internet access at the height of the COVID-19 pandemic. Recognizing that digital access is limited across the country, the team became interested in how DC communities fared. The results were staggering.
According to the 2018 American Community Survey conducted for All4Ed, 20% of DC students lack access to high-speed internet, a problem that disproportionately affects low-income students. Macci and Muralidhara also learned that DC has the second-highest racial digital-access gap in the country.
"There had been attempts to solve this problem, but at each iteration, something had fallen through," said Muralidhara. "This issue was our jumping-off point; we saw what had impeded previous efforts, but we knew that school districts across the nation had successfully narrowed this gap before."
Uniquely so, the District of Columbia's budget is voted on by members of the U.S. Congress. Macci and Muralidhara realized they needed to ensure that their proposal to improve and expand child digital literacy could generate bipartisan interest and community connection. The team chose to narrowly focus on schools and their students, "noncontroversial anchors of a community and important initiators for change," so they could inspire support from policymakers of all political ideologies.
Macci and Muralidhara modeled their program after the successful implementation of #OaklandUndivided, an initiative by the Oakland Unified School District in California. The school district's design and integrated framework allowed the program to be "built to build upon itself," presenting several opportunities to scale up in the future.
In the months ahead, the team's next step is to connect with local elected officials and decision-makers about implementing their proposal. Although there may be obstacles left to overcome, Macci and Muralidhara are hopeful that their research and analysis could help expand digital access to communities across DC.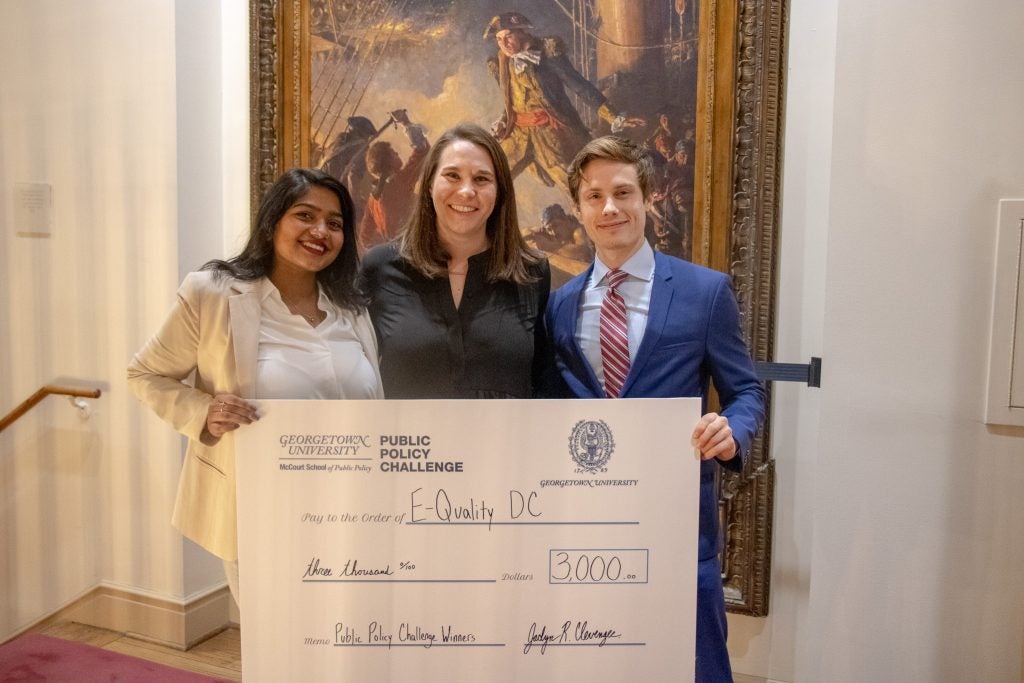 "We know there are big roadblocks ahead," said Macci. "The Challenge allows students to look past these and come up with ideas that are innovative — and then work to address some of those roadblocks at the local, state and federal levels."
Macci and Muralidhara anticipate multiple avenues for scaling up E-QualityDC, from expanding tech support through DC Public Schools to partnering with community-based organizations like The Swaliga Foundation and the Wilderness Tech Alliance. "The possibilities for future expansion of the program are endless," said Muralidhara.
Applying diverse academic disciplines to policy design
The Policy Challenge encourages innovation and creative problem-solving, and provides a platform for graduate students to grow and expand their understanding of policy design. Neither Macci nor Muralidhara had any prior experience drafting a policy proposal, both coming from different academic disciplines, but the Challenge allowed them to apply their knowledge and develop a passion for a previously untapped field of study.
"The Challenge gives students a chance to meaningfully engage on a topic outside of their area of expertise," said Macci, a second-year student at Georgetown Law Center. "Getting a chance to work through and put to paper all of the steps required to make something real happen through the government, was akin to a really advanced civics class."
Both Macci and Muralidhara found the experience to be rewarding, albeit challenging. 
"It's a step out of your comfort zone," said Muralidhara, who will soon graduate with a master's degree in integrative neuroscience. As a heads-up to future Policy Challenge participants, he said, "You will definitely lose some sleep, but your proposal will come together in such a wonderful way and allow you to plunge yourself into something completely new."
As they move forward in their academic and professional careers, Macci and Muralidhara hope to put their newfound policymaking skills to the test.