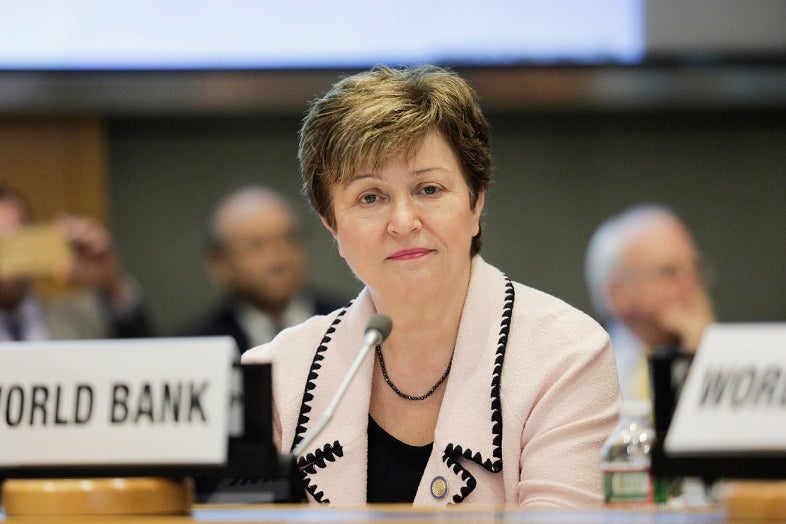 All Georgetown students, faculty and staff are invited to attend.
As the CEO for the International Bank for Reconstruction and Development and the International Development Association, the World Bank's lending arms for middle-income and poor countries, Dr. Georgieva has built support across the international community to help mobilize resources and develop more effective solutions for the poor at the scale required. She combines deep knowledge in international development and finance with an ability to build consensus and meaningfully implement strategy.
Dr. Georgieva joined the World Bank Group as an environmental economist in 1993, and held various roles. Her final role in her first stint at the World Bank was Vice President and Corporate Secretary, in which she was the hub of the wheel for World Bank senior management, the World Bank Board of Directors and shareholder countries. She joined the European Commission in 2010 as the Commissioner for International Cooperation, Humanitarian Aid and Crisis Response, charged with managing one of the world's largest humanitarian aid budgets. She later served as the European Commission Vice President for Budget and Human Resources, allocating the EU's $175 billion budget and 33,000 staff across a global network of institutions.
Fresh off her achievements in tripling funding available to tackle the refugee crisis in Europe and driving progress toward a target of 40% women in European Commission management positions by 2019, Dr. Georgieva assumed leadership of the World Bank in January 2017.
The annual Whittington Lecture is named after then-GPPI associate dean and professor Leslie Whittington who, along with her husband and two children, died on September 11, 2001. The Whittington Lecture allow us to celebrate Leslie's memory, her passion for teaching, and her service to the public policy community