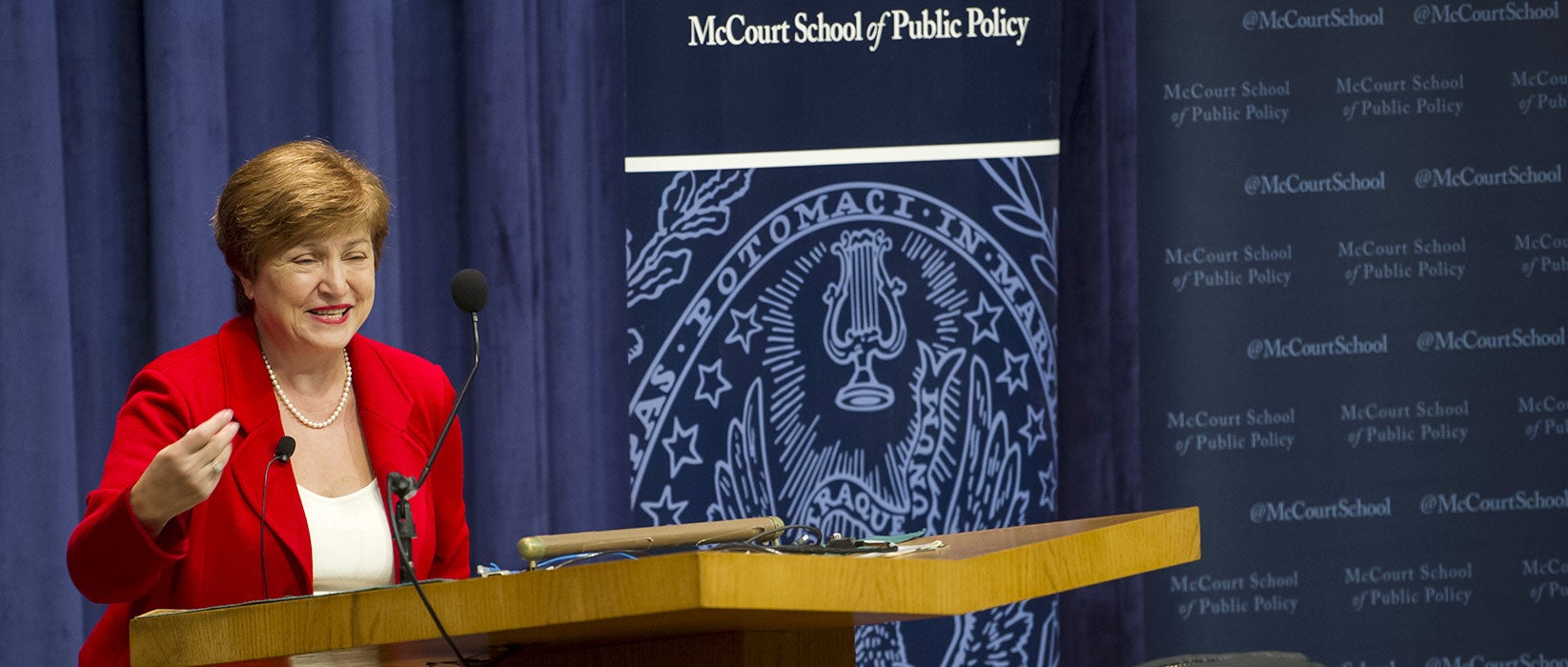 Investing in education and healthcare of people in the developing world and implementing policies that generate solidarity in our community are keys to finding success in the economy of tomorrow, according to Kristalina Georgieva, chief executive officer of the World Bank.
Georgieva gave her remarks at the School's annual Whittington Lecture, titled "The Future of Work."
The lecture touched on the World Bank's Human Capital Project, their newly released report, The Changing Nature of Work, and the need to adapt to climate change.
"We are the last generation that can curb climate change, and the first generation to feel its effects," said Georgieva.
When asked to give advice to students in the audience about how they can have the most impact, she encouraged students to go where there is the most need and work across sectors, reminding them that government alone cannot solve the poverty problem.
Consensus Builder, Strategist, Implementer
As the CEO for the International Bank for Reconstruction and Development and the International Development Association, the World Bank's lending arms for middle-income and poor countries, Dr. Georgieva has built support across the international community to help mobilize resources and develop more effective solutions for the poor at the scale required.
She combines deep knowledge in international development and finance with an ability to build consensus and meaningfully implement strategy.
Dr. Georgieva joined the World Bank Group as an environmental economist in 1993, and held various roles. Her final role in her first stint at the World Bank was Vice President and Corporate Secretary, in which she was the hub of the wheel for World Bank senior management, the World Bank Board of Directors and shareholder countries.
She joined the European Commission in 2010 as the Commissioner for International Cooperation, Humanitarian Aid and Crisis Response, charged with managing one of the world's largest humanitarian aid budgets. She later served as the European Commission Vice President for Budget and Human Resources, allocating the EU's $175 billion budget and 33,000 staff across a global network of institutions.
The Whittington Lecture and Scholarship
The Whittington Lecture was established in memory of Leslie A. Whittington, associate dean and professor of public policy at Georgetown who, along with her husband and two children, died on September 11, 2001.
The forum honors her commitment to investigating pressing public policy issues by providing a forum for thoughtful dialogue with policy and political leaders.
Previous Whittington lecturers have included U.S. Labor Secretary Thomas Perez, Sen. Elizabeth Warren (D-Massachusetts) and U.S. House Speaker Paul Ryan (R-Wisconsin).
Additionally, a McCourt student who excels academically and shows a strong commitment to community service is awarded the Whittington Scholarship each year.
This year's scholar, Alex Brillman (MPP '20), is passionate about environmental justice.
During his first year at Georgetown, Alex joined the McCourt Energy & Environmental Club. He led numerous E&E initiatives to disseminate information about environmental happenings in DC and reduce Georgetown University's carbon footprint.
As E&E president, Alex continues promoting environmental justice throughout the Georgetown community and working to leave behind a community that is much more environmentally conscious than it was when he arrived.
Alex worked on the gubernatorial campaign for Mr. Alec Ross in Maryland, taking his learning from the classroom to application in real world politics. He helped Mr. Ross draft opinions on legalizing marijuana in a way that promoted racial equity and on protecting Latin American immigrants with temporary protected status.
He also worked in his first semester as a graduate assistant for the Georgetown Institute of Politics and Public Service, participating in eye-opening dialogues involving many sectors of the Georgetown community.