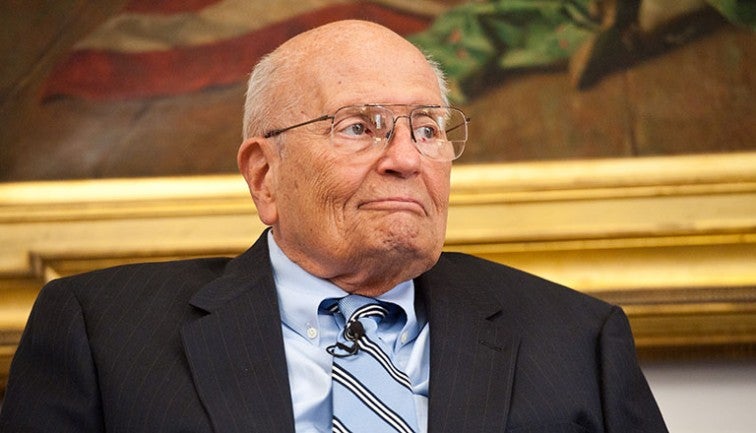 February 8, 2019– Former Rep. John D. Dingell (D-Michigan), the longest-serving member of Congress in U.S. history and a devoted Georgetown alumnus, passed away yesterday at the age of 92.
John Dingell as a student at Georgetown] Dingell, who graduated from the College in 1949 and Georgetown Law in 1952, served for almost 60 years in Congress.
Elected in 1955 during the Dwight Eisenhower administration to replace his late father, he is survived by his wife, Rep. Deborah Dingell (SFS'75, G'98), who took over her husband's seat in Congress in 2015, and three children.
UNWAVERING COMMITTMENT
"We remember Congressman Dingell not only for his longevity of service, but for the exemplary way in which he fulfilled his duties as a representative of the American people, and for his unwavering commitment to our nation — as a citizen, a legislator, and as a veteran."said Georgetown President John J. DeGioia."His integrity, leadership, and dedication to serving others represents the very best of our tradition at Georgetown. We offer our sincerest condolences to Congresswoman Debbie Dingell and the Dingell family as we mourn the loss of this extraordinary individual."
John Dingell, who also served in World War II, played a significant role as a member of Congress in shaping the nation's legislation for civil rights, clean water, Medicare, U.S. workers' rights and more.
During his time in office, he chaired and served on the House Energy and Commerce Committee.
Dingell regularly visited Georgetown – attending John Carroll Weekend and Georgetown's annual Capitol Hill reception participating in conversations on campus. He most recently spoke at the McCourt School of Public Policy about the changing culture in Congress.
PAYING TRIBUTE
Georgetown Law Dean William Treanor presenting award to John Dingell] In 2013, Georgetown Law honored him with its Robert F. Drinan, S.J. Law Alumni Public Service Award.
He received the Presidential Medal of Freedom from President Obama in 2014 along with Ethel Kennedy and Tom Brokaw, among others.
That same year, Dingell was one of six Congressional members paying tribute to Georgetown in the Congressional Record to mark the 225th anniversary of the university's founding.
"…this institution, which I am proud to call my alma mater, is a university that has remained true to its founding principles while evolving to reflect the changes that have taken place in this nation and, indeed, internationally," he wrote. "Having begun my own studies at Georgetown nearly six decades ago and maintaining ongoing contact with the university since that time, I can attest to the university's commitment to addressing the challenges faced by our society and its consistent focus on developing students who are ready to contribute to future prosperity and positive civic leadership."