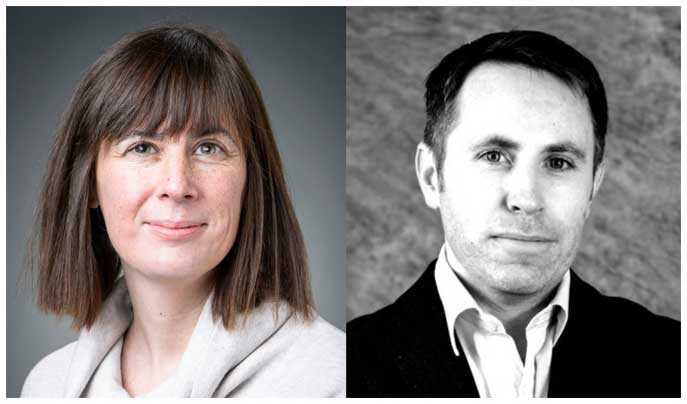 Donald Moynihan, the public management expert, is director of and professor at the school, where aging and survey research scholar Pamela Herd is a professor of public affairs and sociology.
"We are thrilled to welcome Dr. Moynihan and Dr. Herd to McCourt," said Michael A. Bailey, interim dean of the McCourt School. "They are both first-rate scholars who will add an extraordinary level of expertise, research productivity, and teaching excellence in public management and social policy to McCourt. Hiring them keeps McCourt on our trajectory of rising prominence and achievement in policy."
World-Class Scholar
Moynihan's research examines the application of organization theory to public management issues such as performance, budgeting, administrative burdens, election administration, and employee behavior. In particular, he studies the selection and implementation of public management reforms.
His 2008 book, The Dynamics of Performance Management: Constructing Information and Reform (Georgetown University Press), won the 2012 Herbert Simon Best Book Award in Public Administration from the American Political Science Association, and the 2008 Best Book Award from the Public and Nonprofit Section of the Academy of Management.
Moynihan also received the Kershaw Award in 2014, presented every two years by the Association for Public Policy Analysis and Management to an under 40 scholar who has made a distinguished contribution to the field of public policy analysis and management.
His most recent book, published by the World Bank, with Ivor Beazley is the 2016 Toward Next-Generation Performance Budgeting: Reflections on the Experiences of Seven Reforming Countries. Moynihan has also served as the president of the Public Management Research Association.
Innovation and Relevance
Herd's work, which has won acclaim for its innovativeness and policy relevance, focuses on aging, policy, health, and inequality.
Herd is the principal investigator of the Wisconsin Longitudinal Study, a study recognized by the National Academy of Sciences as one of the most comprehensive longitudinal studies in existence. Her most recent $6.7 million dollar award from the National Institutes for Health incorporated genetic data into the survey. She is also chair of the board of overseers for the General Social Survey, one of the most prominent and important ongoing public opinion surveys in the social sciences.
A book she co-authored, Market Friendly or Family Friendly: The State and Gender Inequality in Old Age, won the 2008 Kalish Publication Award from the Gerontological Society of America.
In 2017, Herd was awarded an AARP Innovation Award for a proposal to create a new Minimum Benefit Plan for low-income retirees that would examine sufficiency of retirement income in lieu of calculating years of low earnings. A 2010 article in the American Review of Public Administration won the National Academy of Public Administration/Wilder School Award for Scholarship in Social Equity in Public Policy Analysis. Herd's work has been supported by the National Institutes for Health, National Institute on Aging, the Russell Sage Foundation, and the Ford Foundation.
Herd and Moynihan are currently under contract with Russell Sage to complete a book called Making Government Good: The Role of Administrative Burden.
Transformative Gift
The scholars' tenure at Georgetown is made possible by a 2013 gift of $100 million from Georgetown alumnus Frank H. McCourt Jr. (C'75) to establish the McCourt School of Public Policy. The gift supports an expansion of the school's core faculty, as well as increases interdisciplinary appointments and stronger cross-campus collaborations.
Moynihan has been named a McCourt Chair, the first of multiple positions created by the gift and reserved for recruiting extraordinary scholars to McCourt.