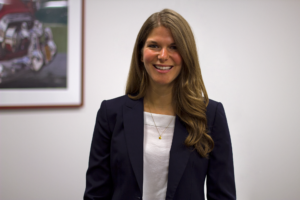 The Bryce Harlow Foundation, which provides professional growth opportunities for individuals pursuing careers in government relations and advocacy in Washington, D.C., recently announced that Master of Policy Management (MPM) student Hanna Abou-El- Seoud was selected among its 2016-17 class of Bryce Harlow Fellows.
"I am honored to receive the Bryce Harlow Foundation Fellowship," Hanna said. "Bryce Harlow exemplified what it means to have integrity in public policy. He was skillful in integrating the best of government and the private sector for the betterment of society. By continuing my academic education through the McCourt School's Masters of Policy Management (MPM) program, I hope to enhance my academic and professional skills to become a leader in public policy issues."
The Fellowship is awarded annually to graduate students who have shown to be future leaders in the influence industry and have a proven commitment to smart and ethical lobbying practices. Recipients are granted an $8,000 prize and an opportunity to participate in the Bryce Harlow Foundation Mentoring Program.
Hanna currently works at Gordley Associates as an International Trade and Agricultural Development Representative. Previously, she served as a policy analyst and legislative assistant at the Senate Committee on Agriculture, Nutrition and Forestry. She earned her B.A. in international relations with a focus in science, technology, environment and public policy from Michigan State University.
Additional information about the Bryce Harlow Fellowship can be found at: <https://bryceharlow.org/fellowship-programs/>.