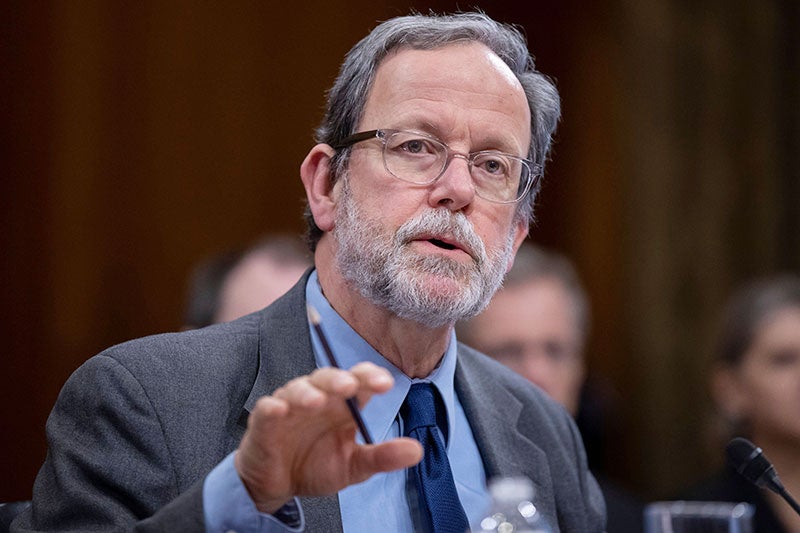 Hall comes to the McCourt School after serving a four year term as the Director of the Congressional Budget Office, where he oversaw all of the agency's nonpartisan, independent economic and budgetary analysis for thousands of congressional legislative proposals and hundreds of analytical reports. During his time at CBO, Hall led the agency in significantly increasing its transparency, including making more data and models public and placing a greater emphasis on assessing the accuracy of its projections.
"Keith's deep experience at the intersection of government and evidence-based public policy will prove invaluable to our training of the next generation of problem solvers," said Maria Cancian, dean of the McCourt School. "His ability to bring real-world examples of the value and challenge of using evidence to inform practice will deepen the preparation of our students to have impact after they leave the Hilltop. We are excited to welcome him to McCourt."
A Dedicated Public Servant
A public servant for more than 25 years, Hall has served in multiple leadership roles in the federal government, including as the thirteenth Commissioner of the Department of Labor's Bureau of Labor Statistics, Chief Economist for the Council of Economic Advisers under President George W. Bush, and as the Chief Economist and Director of Economics at the International Trade Commission.
Previously he was a senior research fellow at George Mason University's Mercatus Center and an assistant professor at the University of Arkansas. In those positions, he worked on a wide variety of topics, including labor market analysis and policy, economic conditions and measurement, macroeconomic analysis and forecasting, international economics and policy, and computational partial equilibrium modeling.
Powering McCourt's Impact
While at McCourt, Hall will teach courses in the Federal Budget Process, Economic Analysis, and Management of Program Evaluation, as well as a new course in Debts and Deficits.
He will also contribute to McCourt's vibrant intellectual community and further shaping tomorrow's policy leaders by strengthening McCourt's experiential learning opportunities for students.
"I look forward to continuing a career of supporting better, evidence-based public policy by focusing on helping to develop the next generation of policy leaders, analysts, and advocates," said Hall.