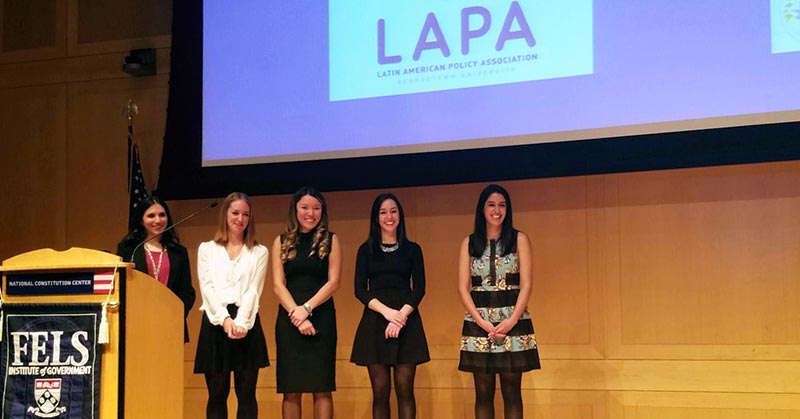 March 2016 –
The team detailed to judges their proposal known as "Peace Cluster" to develop a workshop that teaches forgiveness and reconciliation to high-risk Latino youth in Washington, D.C.
In addition to the finalist distinction, the McCourt team was awarded $5,000 to help implement their pilot program at Cardozo Education Campus in the Columbia Heights neighborhood in the fall.
"As a public policy student, the National Competition of the Policy Challenge was a great opportunity to give exposure to our policy proposal, and although for the time being it is only focused on Washington D.C., it has helped to raise awareness of the delicate situation some Latinos are facing in the country," said team member Galia Rabchinsky (MIDP '17). "On the other hand, it was a great opportunity to get to know policy students from different schools and get to learn about their policy proposals and exchange ideas with them."
Peace Cluster originated after team members América Ávalos (MPP '17), Cristina Martínez (MPP '17), Ana Lucía Fernández de Soto (MPP '17), Maricarmen Medina-Mora (MPM '16), and Rabchinsky were inspired to address specific social, economic, language, and cultural needs of the Washington-area Latino community. According to the U.S. Census Bureau, Latinos are the second-largest minority group in the region.
The team drew upon the methodology of the School of Forgiveness and Reconciliation (SFR), which teaches individuals to transform feelings of rage and resentment into states of clemency and understanding. Ávalos, who is a certified peace facilitator, was able to help guide SFR into to the project.
In consultation with the Washington, D.C. Mayor's Office on Latino Affairs (OLA), the team developed implementation plans for the workshop. They remain in close contact with the OLA leading up to the launch date.
"Peace Cluster represents the vast potential to solve pressing challenges when great policy minds get together," said McCourt School Dean Edward Montgomery. "We couldn't be prouder of the students' accomplishment and look forward to watching their plan unfold."
The team advanced to the national finals after months of rigorous planning, which included presenting their idea the McCourt faculty and administrators during a competition alongside fellow students.