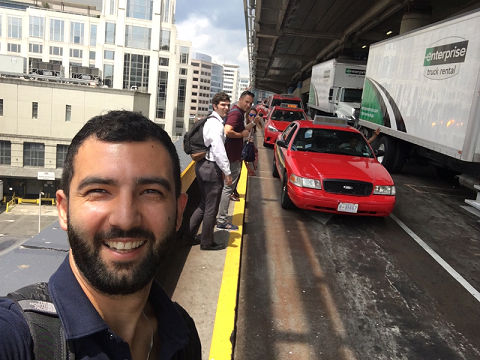 Automation, and the threat it poses to workers, has become an incredibly salient issue for policy experts in the U.S. and around the world. Among the think tanks tackling this issue is New America, whose Work, Workers and Technology Program strives to add a human context to discussions of automation. An excellent example is the recent work of Vadim Abanin, Itay Weiss, Natalia Gonzalez-Alarcon and Matt Schwartz, the four Baker Future Fellows who interned at New America last summer.
As part of their experience with New America, the Fellows incorporated human-centered design training and experiential fieldwork around the intersection of technology and work. New America gave them the opportunity to engage directly with workers in D.C. whose jobs will likely be impacted by technological change. The Fellows' summer ultimately revolved around one question: what and how do workers facing automation risk think about their work in the future?
Hearing People, Not Seeing Numbers
As the Fellows took on a variety of other eye-opening projects. New America's ShiftLabs initiative, for one, initially required the Fellows to run operational support. However, as their familiarity grew, they moved from flagging at-risk skills in Bureau of Labor Statistics reports to visiting other cities in the area, presenting automation risk to stakeholders, and interviewing them to develop seminars to address skills at risk of automation.
Halfway through the summer, the interns were assigned the project that led to the blog post: interviewing people in the D.C. area at risk of losing jobs to automation. The process required a fundamental rethink around automation, as policy analyses tend to focus on numbers and conclusions over lived reality. In Matt Schwartz's words, "maybe we shouldn't jump so far ahead and talk about constant job turnover without an idea of what work means to most people."
The latter portion of the internship revolved around codifying the qualitative research processes the Fellows had developed: writing scripts, conducting interviews, and going on road trips to various cities to continue collecting feedback from those most directly threatened by automation.
Their research will be an integral building block in New America's ongoing efforts to develop new opportunities to hear directly from workers and prioritize their voices.
Fellows' Future Plans
This opportunity to apply classroom training in a real policy setting grew out of a class on automation with McCourt adjunct faculty member Molly Kinder, who is senior advisor to the Work, Workers and Technology team at New America.
Some of the Fellows continued to work at New America this fall, and others discovered that qualitative research was a significant enough area of interest for them to take a class on the subject in the fall semester.
"One of the most important benefits of attending a policy school located in Washington, D.C. is the organic connections that can be made between the classroom context and the broader context of the capital," said Weiss