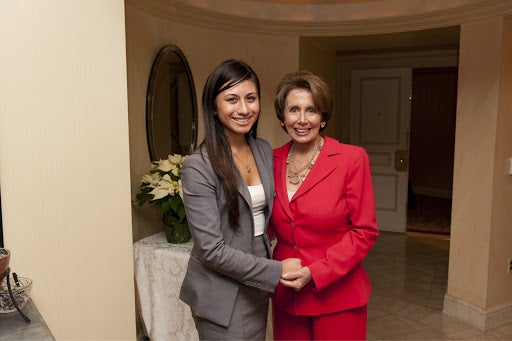 –
In addition to receiving an $8,000 award, Hanna Abou-El-Seoud (MPM'18) and Adela Amador (MPP'19) will be assigned mentors from the Bryce Harlow Foundation's board of governors. The Foundation supports the profession of lobbying and government advocacy in the nation's capital.
Seoud and Amador are joined by 21 other fellowship recipients who are pursuing graduate degrees in law, business, and public policy at Washington, D.C.-area schools. The Foundation considers its Fellows to be the future of government advocacy, and selects award recipients based on their commitment to practicing advocacy with the highest levels of integrity.
Bryce Harlow Fellows attend graduate school part-time while working full-time in a variety of settings, including Capitol Hill, government agencies, lobbying firms and trade associations. While undertaking the MPM program at McCourt, Seoud works full-time at Gordley Associates as an International Trade and Agricultural Development Representative.
Seoud says that the Bryce Harlow Fellowship has been instrumental in her professional development. "My mentor provided insight and guidance on different career trajectories and also helped connect me to valuable professional contacts," she said.
Seoud is now a two-time winner of the Bryce Harlow Fellowship. She is driven by a passion to develop and implement policy solutions for the global agriculture system.
"I have developed an expertise that I hope to leverage specifically into finding public-private solutions to pressing food security and agriculture trade issues," she said.
Additionally, Amador is pursuing her MPP while working as a Policy Advisor & Member Services Advisor for U.S. House of Representatives Leader, Nancy Pelosi.
"I believe government advocates play an important role in communicating the effects of laws on people's everyday lives," she explained. Amador hopes the Fellowship will give her opportunities to learn from a supportive network of professionals working in governmental affairs.
Additional information about the Bryce Harlow Fellowship can be found at: <https://bryceharlow.org/fellowship-programs/>.