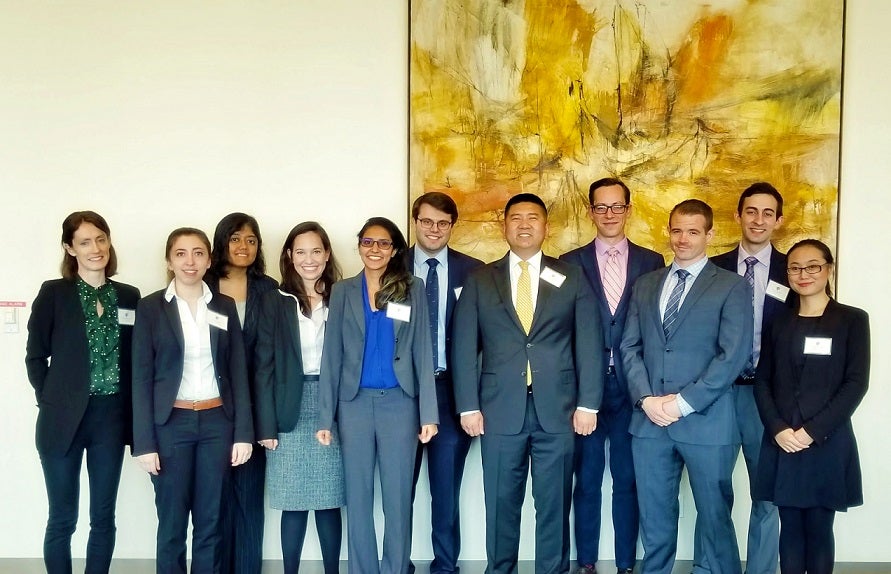 MAY 10, 2018 – On Saturday, April 28, a delegation of 10 Georgetown students and one George Mason student competed in the annual NYU Policy Case Competition at NYU's campus in New York City. Split into 3 teams, the students presented their proposals to address policy issues ranging from data security challenges to educational inequities in Spain, and the conflict in the South China Sea.
NYU Case invites undergraduate and graduate students from all over the country to research, design and present their team's proposals in a three-round competition. The first round requires that each team submit a two-page memo outlining a concise and compelling policy proposal. During the second and third rounds, panels of expert judges evaluate the proposals in real time and give actionable feedback.
Although none of the teams in the Georgetown delegation made it to round 3, they gave it their all in rounds 1 and 2.
"We practiced for countless hours to make sure that our team was prepared to deliver the entire presentation within the 20 minute window," explained Peter Nouhan (MPP'19). "We used a stopwatch to rehearse our timing and to ensure seamless transitions between team members."
Even though the hard work didn't lead to an official win, most of the Georgetown delegation left the competition feeling accomplished.
Hall Wang (MPP/MBA'19), who led the team on data security, enjoyed the opportunity to turn classroom knowledge from McCourt into viable policy solutions.
"It is an amazing opportunity to put policy training in action through collaborative teamwork…," Hall said. "This was a great bonding experience with fun and exciting people I would have otherwise never met."
Hall was instrumental in organizing each Georgetown team, beginning recruitment in January and kicking off the intensive semester-long effort, which included students from the McCourt School of Public Policy, the School of Foreign Service, Georgetown McDonough School of Business, Georgetown University Medical Center and George Mason University Biodefense.
"This is an effort that serves to fulfill the spirit of Georgetown University as a bustling environment for interdisciplinary collaborative excellence and experiential learning," Hall said.
The GU Delegation included the following students:
Erich Denk (MPP'19)
Prakesha Mathur (MPP'19)
Siobhan McCauley (MIDP'19)
Peter Nouhan (MPP'19)
Robert Roussel (MPP'19)
Hall Wang – (MPP/MBA'19)
Keren Erez (SSP)
Tim Robbins (SSP)
Karishma Soni (Master in Pharmacology)
Ruishu Zhou (MSFS)
Annette Prieto (George Mason, Biodefense)