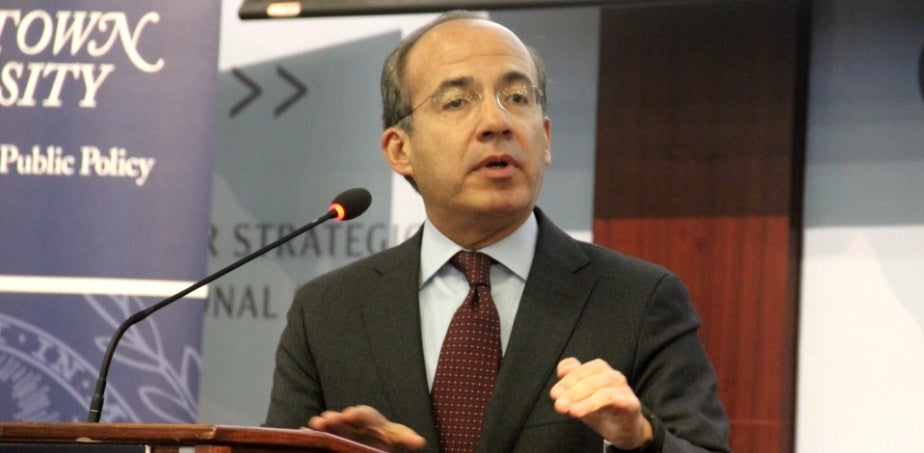 March 20, 2015- The McCourt School Policy Conference, a student organization led this year by Ramón Fernández Vigil (MPM '15), hosted their 21st annual event, "Infrastructure as a Path to Development."
The opening address was given by the Honorable Anthony A. Williams, fifth Mayor of Washington, D.C. (1999-2007) and the keynote speech was given by President Felipe Calderón Hinojosa, former President of Mexico (2006-2012). The event was held at the Center for Strategic and International Studies.
In his opening remarks, Ramón Fernández said that the conference aimed "to support the notion that infrastructure that communicates and integrates people and their surroundings will enhance real economic and personal development that will ultimately improve lives."
The Conference gathered current and future public policy leaders, practitioners, academics, and government officials fora conversation on infrastructure from both domestic and international perspective, in which all views and ideas were represented.
The three panels focused on the challenges, finance and innovation of infrastructure and featured top experts such as: Ambassador Dionisio Pérez-Jácome Friscione, Permanent Representative of Mexico to the OECD; Patricia Pietravalle, Managing Director of CG/LA Infrastructure, Inc.; Juan Carlos Echeverry Garzón, CEO of ECOPETROL; Andreas Kopp, Lead Transport Economist at the World Bank; Griffin Thompson, Director of the Office of Electricity and Energy Efficiency of the Bureau of Energy Resources at the U.S. Department of State; Robert Puentes, Director of the Metropolitan Infrastructure Initiative at The Brookings Institution; and many more.