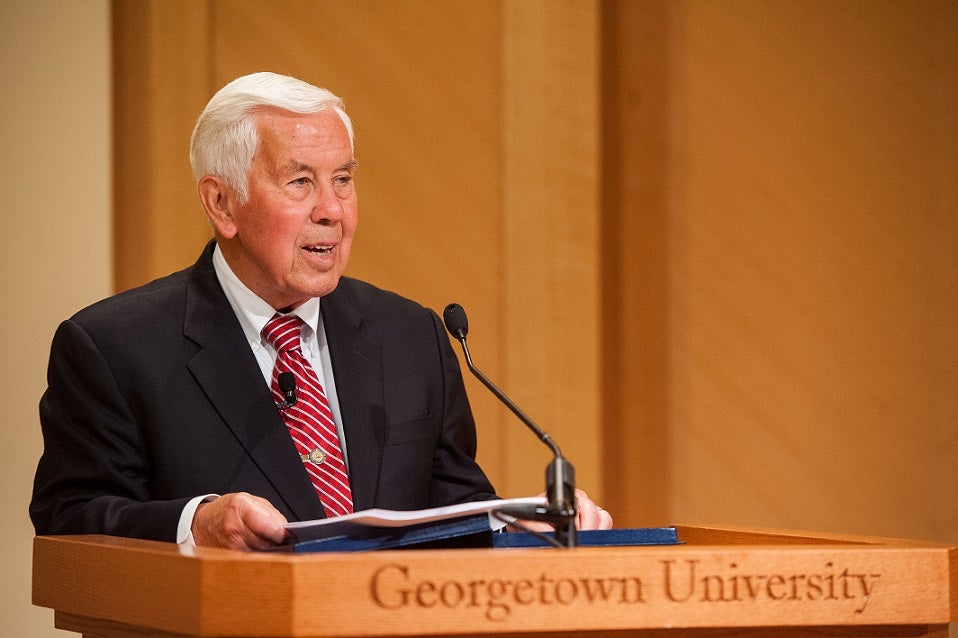 The McCourt School of Public Policy mourns the loss of former Senator Richard Lugar, who died peacefully on April 28, 2019.
Lugar served as Mayor of Indianapolis from 1968 to 1975, and six terms as a U.S. Senator from Indiana, making him the longest serving senator in Indiana history.
Senator Lugar devoted his life to critical global issues like nuclear nonproliferation, food security and making foreign aid more effective. Lugar was instrumental to the passing of the Soviet Threat Reduction Act of 1991, which created the Cooperative Threat Reduction Program within the Department of Defense. According to the Lugar Center, the Nunn-Lugar program– as it came to be known– led to the deactivation of more than 7,600 nuclear warheads.
NPR called Lugar "one of the Republican Party's most influential voices on foreign policy."
Since 2013, he served as President of the Lugar Center, working to advance the issues he focused on throughout his career, including nuclear nonproliferation, food security, and foreign aid effectiveness.
The McCourt School partners with the Lugar Center on the Bipartisan Index, a non-partisan tool measuring the degree to which U.S. Senators and Representatives work across party lines.
Lugar served as a Visiting Distinguished Professor at what was then known as the Georgetown Public Policy Institute, and in 2013 delivered the McCourt School's annual Whittington Lecture titled, "Securing Our Country in an Era of Partisanship.