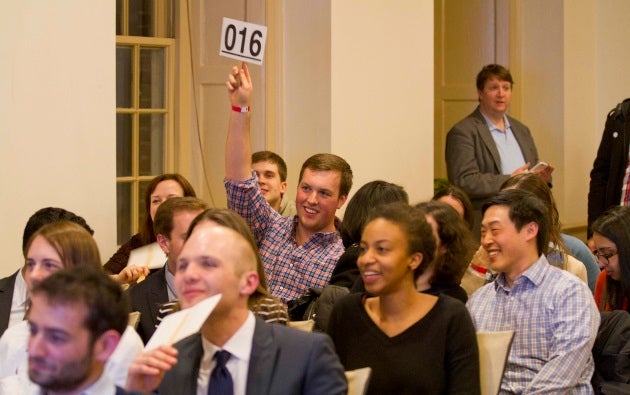 McCourt Policy in Practice, the McCourt School's student-led sustainable service learning project, raised more than $6,000 at its annual service auction last week.
Top prizes included a round of golf with McCourt School's Dean Edward Montgomery, lunch with McCourt School Professor and Washington Post Columnist E.J. Dionne, and behind-the-scenes visit to the set of CNN's "New Day" with McCourt School professor and Democratic strategist Paul Begala.
More than 100 guests bid on items like lunch with prominent McCourt professors such as Harry Holzer, and Judy Feder. Many local organizations like the Washington Nationals and the Washington Capitals, and local Georgetown businesses, like the Key Bridge Boathouse and Washington Sports Club, donated to the auction as well.
McCourt Policy in Practice, formerly known as Project Honduras, was created to connect McCourt students to an impoverished area and give them the opportunity to use their policy skills to implement sustainable development solutions such as water and sanitation project in the community of La Colonia Balfate and personal finance workshop project in the community of Pensacola in Roatán, Honduras.
This year, the student group has embarked on a new partnership with the DREAM Project, a Dominican Republic-based local NGO, to carry out an HIV/AIDS prevention project.