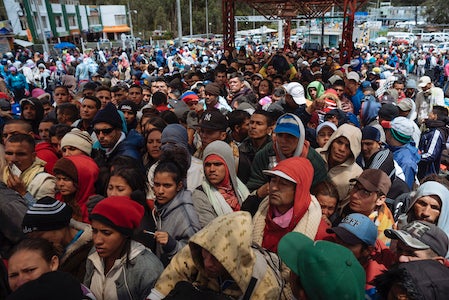 It was her father, a doctor in her native Ecuador, who pulled Andrea Vargas into a project to help refugees fleeing the political and economic crisis in Venezuela.
Millions of Venezuelans have left their country, often by traveling through Colombia to Ecuador. But many are often stuck at the border because they have no money, no visa and no way to reach out for help. Vargas's father began to understand the scope of the crisis when his best friend, a doctor in Venezuela, needed help getting out and securing a job.
That process made him realize how many others needed similar help, and he turned to his daughter.
A Multi-Faceted System
Thanks to a McCourt course, Policy Issues in Corporate Social Responsibility and Impact Investing, that Vargas took with adjunct professor Joseph Firschein, she developed a multi-faceted system to help the refugees.
In that class, Vargas says, "we were reading about models all around the world. I owe all of my ideas to that class," especially "how to engage the government — the final key element."
The first phase of the effort, based in the Colombian border town of Ipiales, was to employ a lawyer who could file documentation and start the legal asylum process for refugees. Once they had a visa and refugee status, the initiative, called "Venezuelan: Mi amigo," matches Venezuelans up with companies in Ecuador looking for workers.
Regularized and Rapid
To date, the initiative has lined up more than 100 organizations and secured 1,211 working visas in Ecuador, including 573 visas for heads of families, which meant multiple people secured entry. In January, thanks in large part to the initiative, Ecuador implemented an electronic visa system to make the process both regularized and rapid, Vargas says.
Before that project, Vargas worked as an advisor to the Ecuadorian government in the Galapagos, helping to set up green finance–economic incentives for investments to benefit the environment. Vargas finished her MPP degree in May. Today she works for the DC office of a California-based environmental consulting firm.