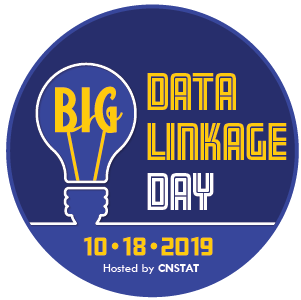 Data Linkage Day is an opportunity for federal employees to share their innovations, applications, and results from linking administrative, survey, and other alternative data sources.
The goal of the event is to promote the technical innovations and outcomes related to linking data for statistical purposes, share those innovations with peers, and inspire new ways to produce analytical results to answer the call of evidence-based policymaking.
Data Linkage Day will also include presentation of the 2019 Links Lecture Award, sponsored by the American Statistical Association.
Contact: Amy O'Hara, Director (RDC) and Research Professor (MDI)
Data Linkage Day Agenda
List of Lightning Presentations & Posters: PDF file
Lightning Talk & Poster Abstracts: PDF file
Data Linkage Day Agenda

Time
Details
1:00pm - 1:45 pm
Poster Session Opens - Great Hall
1:45pm - 2:00pm
Plenary Sessions - Auditorium
Welcome & Introductions - Robert Groves, CNSTAT Chair
Current Key Initiatives in the Federal Statistical System - Nancy Potok, Officeof Management and Budget
2:00pm - 3:00pm
2019 Links Lecture
Introduction: Arthur Kennickell, Stone Center, CUNY Graduate Center
Linking Data to Improve Income Statistics: Bruce Meyer, University of Chicago
Connector Remarks: Mary Bohman, Bureau of Economic Analysis
3:00pm - 4:00pm
Data Linkage Lightening Presentation
Introduction: Brian Harris-Kojetin, CNSTAT
4:00pm - 5:30pm
Poster Session Resumes - Great Hall
Light Refreshments
5:30pm
Adjourn