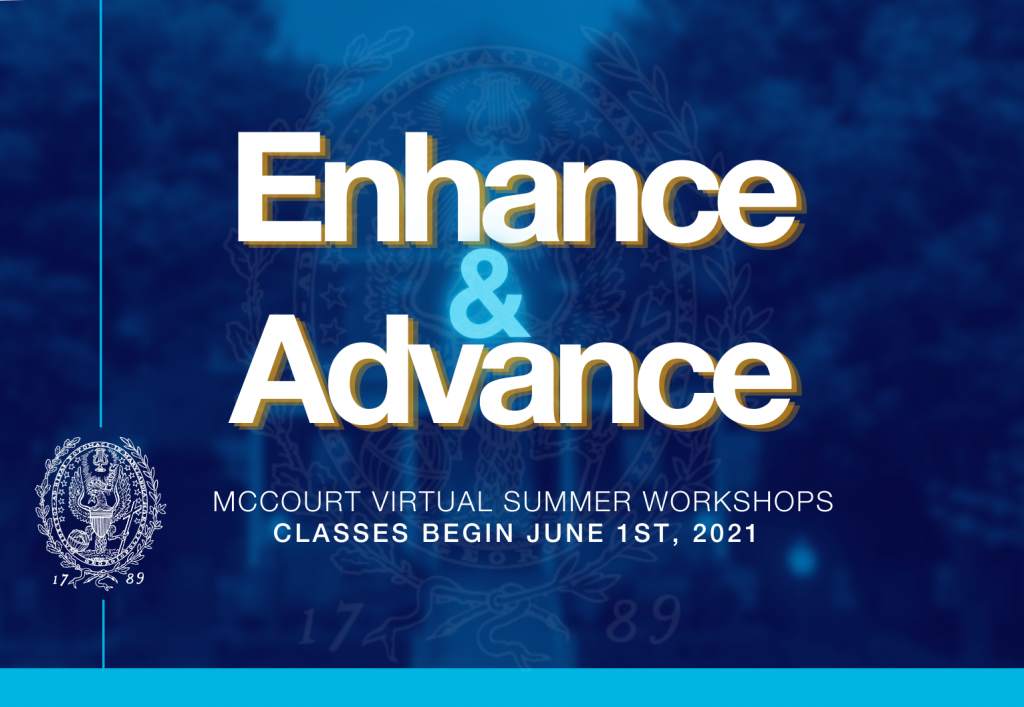 About the Workshop Series Anchor
About the Workshop Series
The Enhance and Advance workshop series is for current and graduating McCourt students and set to commence this summer. We have about two dozen courses/workshops that will be offered starting June 1 and running through mid-August.
Back to Top
Why Take the Workshops? Anchor
Why Take the Workshops?
The McCourt School's Enhance and Advance summer workshop series enables participants to gain unique insight into specific aspects of their coursework and further build their skills. These virtual courses give students a chance to learn from McCourt and The Beeck Center for Social Innovation & Impact professors and practitioners in the field and examine how class work can be applied outside of the classroom. Courses begin on June 1, 2021.
Back to Top
Workshops & Dates Anchor
Workshops & Dates
Registration is now closed.
June Sessions
Finding Your Thesis Topic  – 2x 1 Hour Sessions
Nora Gordon
June 1, June 3 2021
Getting Things Done In Government – 4x 90 Minute Sessions (Weekly Delivery)
Kevin Parker
June 3 – June 24, 2021
Applied Economic Analysis for International Development – 3x 2 hour Sessions (Weekly Delivery)
Keith Ives & Adam Trowbridge
July 6 – July 20, 2021
Exploring Critical Policy Analysis – 1x 2 Hour Session
Maria Cancian, Eva Rosen & Karen Huang
June 7, 2021
The Green New Spiel: Making Dynamic Climate Change Policy – 4x 90 Minute Sessions
Bob Kyle
June 7-10, 2021
Intro To 'R'- 3X 75 Minute Sessions 
Michael Bailey
June 7, 9, 11, 2021
Race and Social Welfare Policy – 2x 90 Minute Sessions 
Pam Herd
June 8, 10, 2021
Public Health IT Infrastructure: Lessons from the COVID Pandemic – 1x 2 Hour Session
Sarah Schacht
June 14, 2021
The Economics of Large Scale Disasters and Tax Policy Responses – 5X 1 Hour Sessions
Nada Eissa & Day Manoli
June 14 – 18, 2021
Digital Fundamentals – 2x 2 Hour Sessions
Emily Tavoulareas
June 19 , 20, 2021
PIT Career Path Q&A Panel – 3x 2 Hour Sessions (Monthly Delivery)
Emily Tavoulareas & Taylor Campbell
June 26 , July 21, August 9, 2021
July Sessions
Special Topics in Medicaid – 3x 90 Minute Sessions
Andy Schneider
July 6, 7, 8 2021
Social Media Marketing, Social Media Analytics and Graphic Design Basics – 1x 75 Minute Session
Su Tellakat
July 12, 2021
Data Visualization and Dashboards in 'R' – One 2-Hour Workshop
Gregory Lyon
July 13, 2021
Research Topics in US Education and Labor Market Policy (with Data Notes) – 1x 2 Hour Session
Jeff Strohl
July 14, 2021
Reducing Administrative Burden in the Social Safety Net with Service Design, Data Science, and Information Technology – 1x 3 Hour Session
Don Moynihan & Sara Soka
July 15, 2021
Who Lives Here? How we measure the US Population – 3x 2 Hour Sessions
Amy O'Hara
July 15, 22, 29, 2021
The Product Mindset – 3x 2 Hour Sessions
Katherine Nammacher & Bennet Hillenbrand
July 16, 17, 18, 2021
A Policymaker's Guide to Process Focused Policy Analysis – 4x 90 Minute Sessions
Kent Weaver
July 19 – 23, 2021
Geospatial Data Visualization with Tableau – 4x 90 Minute Sessions (Weekly Delivery)
Wesley Joe
July 22 – August 12, 2021
Modernizing Congress – 1x 3 Hour Session
Lorelei Kelly
July 30, 2021
August Sessions
'R' Package Development – 1x 2 Hour Session
Eric Dunford
August 2, 2021
Program Evaluation – 3x 3 Hour Sessions 
Adam Thomas
August 2 – 4, 2021
Applying Campaign Tactics to Policymaking – 3x 1 Hour Sessions
Tony Carrk
August 3 – 6, 2021
User Research & Design – 2x 2 Hour Sessions
Sarah Rodriguez
August 5-6, 2021
Back to Top